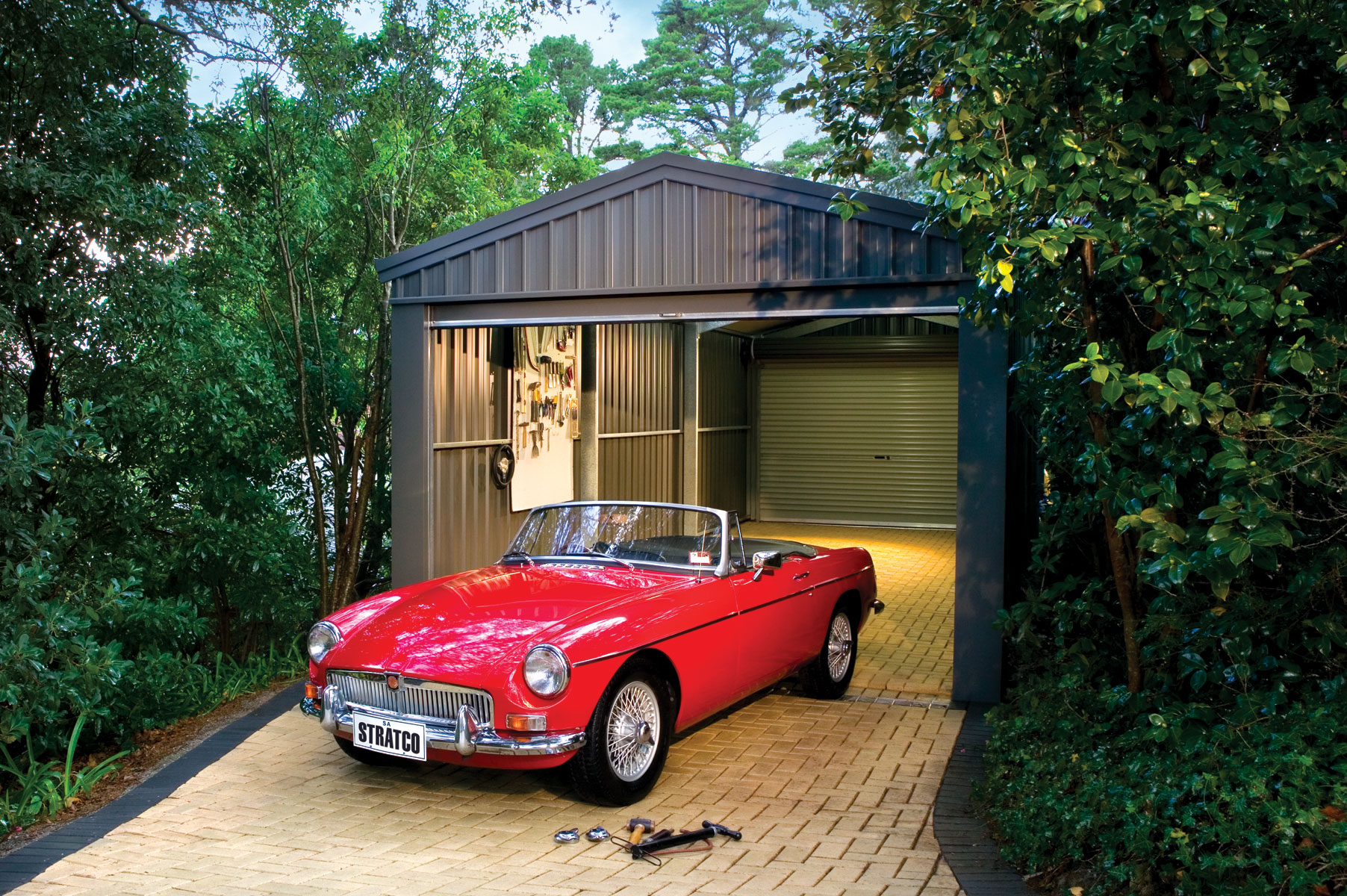 Are you tired of feeling like your car is at the mercy of the elements? As a responsible car owner, you know that protecting your investment is crucial. Parking under a tree might seem like a quick fix, but it still exposes your car to sun damage, paint fading, and dreaded bird droppings – all of which decrease the value of your car. Did you know a new car can lose up to 20% of its value in the first year, due to environmental damage? Another reason to provide the long-term protection your car deserves. 
That's where carports and garages come in! But which is best for you? By comparing the benefits and drawbacks of each option, we can help you make an informed decision that fits your needs and budget. Let's dive in and find the perfect solution to keep your four-wheeled companion safe and secure!
Carport vs Garage: which one is right for you?
Garages are usually constructed alongside homes in the initial building process, attaching them to the house and constructed using bricks and mortar. Essentially, they're permanent and typically require foresight. So, if you have a home without enough garage space or are renting, a carport might be the better option.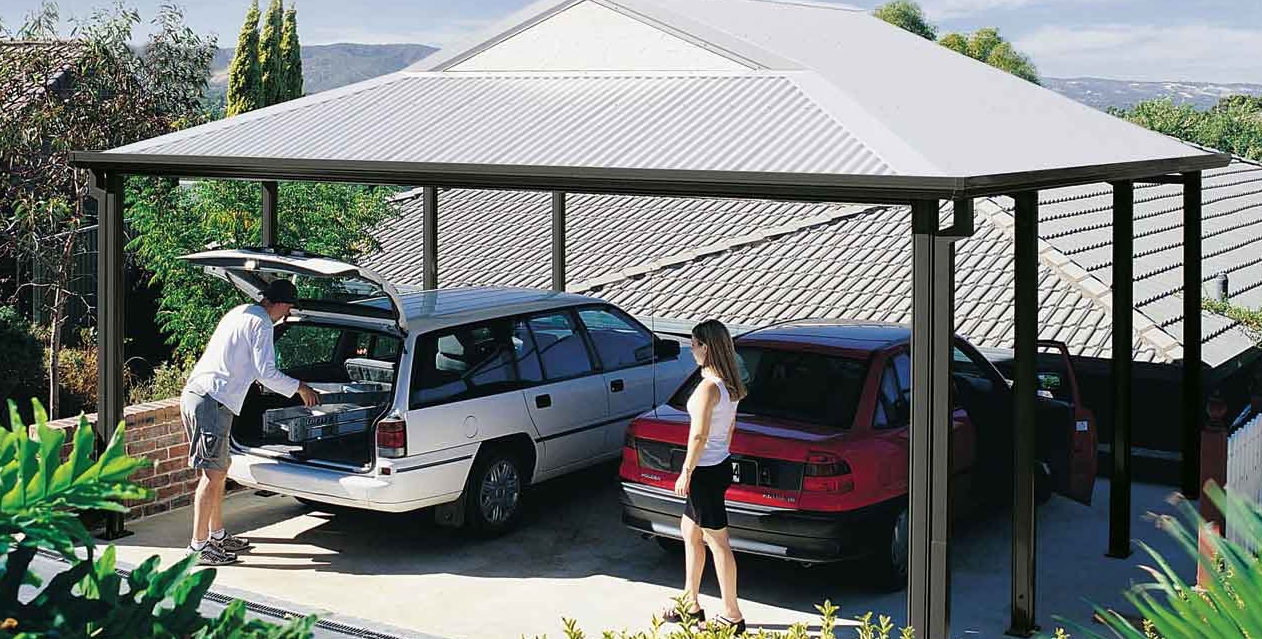 A carport is usually constructed from wood or steel and provides shelter for your car. Unlike a garage, it's easy to install and dismantle, which means you can take it with you if you decide to move in the future. Carports can be built attached to the home or freestanding, making it easy to work around your outdoor space and providing ample shade and protection for your car.
What are the costs associated with garage and carport installations?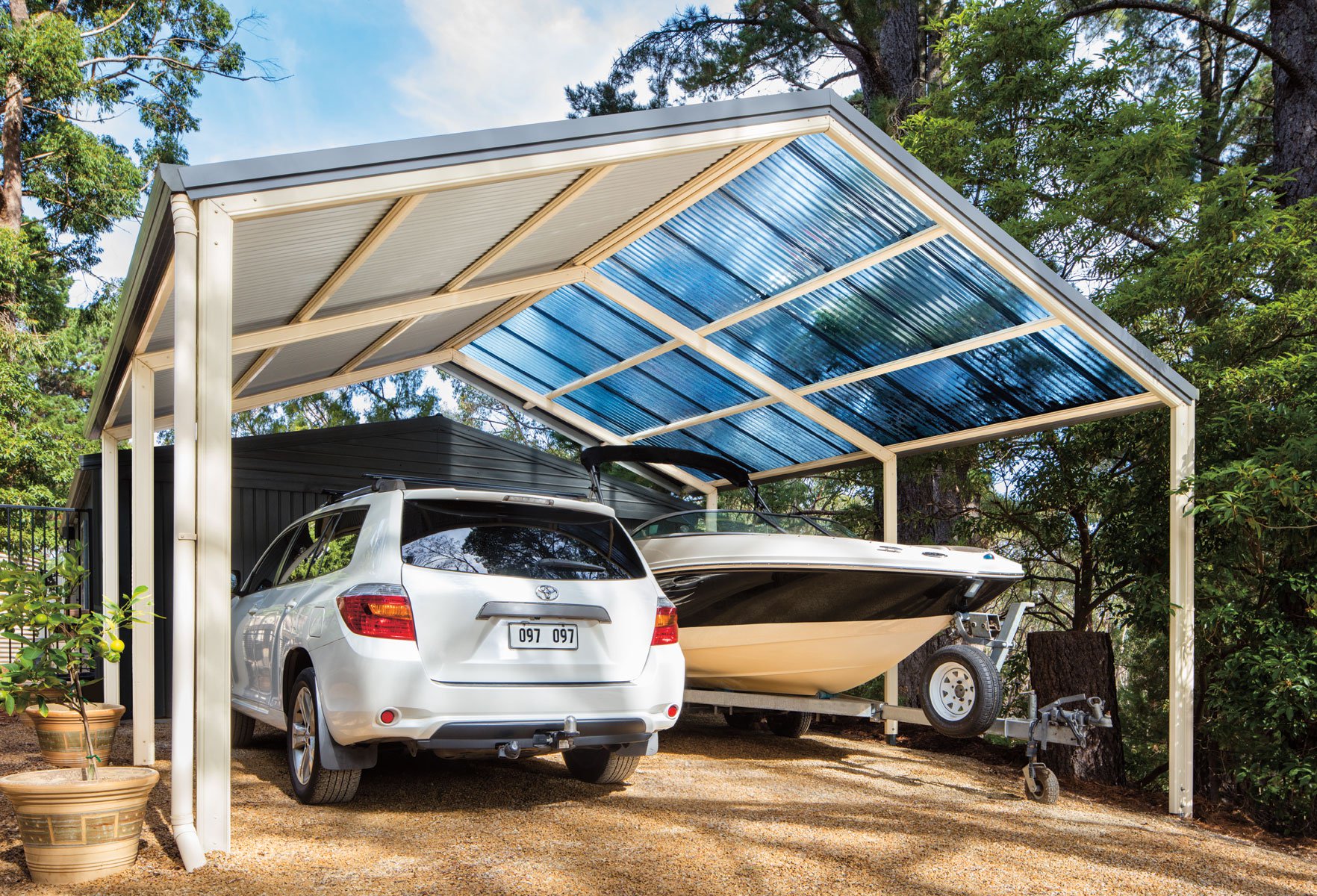 As with most home improvements, the cost will be one of the biggest defining factors when looking at carports vs garages. The cost of a garage with two bays, including brick walls, a tiled roof, sealed concrete flooring, and space for storage and a workbench, can range anywhere from $55,000 to $75,000. A new garage will also require council approval, which we all know means jumping through a few hoops. Hoops that are usually on fire. On the other hand, whilst the cost of a carport depends on its size, material, and the number of vehicles it can fit. Steel carports typically range from $1,200 to $4,000. At 2 – 5% of the cost, carports are clearly the much more cost-effective option.
Car protection from the weather: which is better?
Both garages and carports provide shade to protect against sun damage, which can affect your car's paint job and cause heat damage to the car's interior. Heat is public enemy number one to your battery life, as it can cause battery liquid to evaporate – damaging the internal parts. Excessive spikes in temperature can also fluctuate your tyres' inflation levels, affecting your driving and the lifespan of your tyres. 
Carports are open-sided structures that provide a roof to protect your car from the elements. Meaning, whilst they provide ample protection from the sun, rain and hail, they do fall short of garages from a security perspective. However, carports can allow for better ventilation, which can help prevent issues like mould and mildew. While garages may offer enclosed protection, they can also be prone to moisture buildup, which can cause damage to vehicles over time. Overall, if you live in a mild climate or simply need a basic level of protection for your vehicle, a carport may be a better choice than a garage.
How do these outdoor solutions protect your vehicle and home investments?
No more bird droppings, hail, dents, or even tree branches potentially scratching your vehicle: because you've invested in car protection with the proper shade, you're prolonging the longevity of its outside appearance, which then helps retain its resale value. 
But what about your home value?
Carports are an excellent way to increase the value of your home, especially if you're looking for an affordable way to do so. In addition to providing shelter for your vehicle, a carport also adds extra living space to your home, making it more appealing to potential buyers. By adding a carport to your property, you're not only providing a practical solution for parking your vehicle, but you're also improving your home's overall aesthetic appeal. Additionally, carports are easy and inexpensive to build, making them an excellent investment for homeowners looking to add value to their property. With their many benefits, it's no wonder that quality carports, like Stratco, have become household favourites for anyone looking to add to their property's value, without breaking the bank.
If I'm renting, what's the better option?
Well, if you're renting, you probably don't have the freedom or capacity to install a garage. This is where carports do some of their best work. Carports, after all, are portable. Meaning, that if you do eventually move, you can take your investment with you.
How to find the best carport builders Melbourne?
As with most home improvement projects, it's important to do your research and ask around for quotes on a new carport. Contractors like Outdoor Impressions provide not only great quality carports for Melbourne homes but are official suppliers of Stratco products. 
If you're looking for carport builders in Melbourne, call Outdoor Impressions at +61 3 9728 5377 or visit 1/158 Canterbury Rd, Bayswater North VIC 3153, Australia.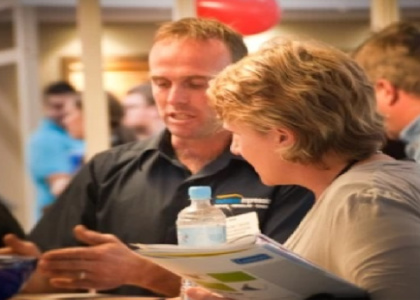 Professional Contractor, Director, Outdoor Impressions
Anthony Davis is a professional contractor and Director of Outdoor Impressions, the leading authorized Stratco dealer in Melbourne. With extensive knowledge in outdoor design and construction, Anthony and his team deliver design-focused, functional home solutions. With over 50 years of combined experience, Outdoor Impressions provides tailored, lifetime-engineered products for your outdoor living area.