Home is where the heart is. Millions of Aussies all over the country have worked towards their goal of homeownership, and for good reason. To have a home of your own is to have your own private space where you can relax, entertain, and be you, to your heart's content. And with how Aussie homes are built, it's almost always with a focus on indoor spaces such as the bedroom, the dining room, the theatre room, to name a few. While these spaces are integral to the blueprint of Australian homes, it's also important to focus not just on what is within the walls of your home, but the outside too!
Outdoor Spaces as Extensions of the Home
Often, Aussie homes are built with an allocation of space for a backyard. While some homeowners decide to keep it as an unroofed area with lawn underfoot for purposes such as sports and pet exercise, more and more homeowners have begun to invest in the look and functionality of their homes by making plans for their outdoor living solutions. With outdoor space options such as pergolas, verandas, gazebos, and even carports, there's an outdoor living space that's calling your name.
These extensions of your home not only add more space for entertaining and relaxing, but have also been found to help boost your home's value, too. This is because more and more homebuyers are wanting not only a great home layout inside, but a usable space outside that is multifunctional, and great to look at too. Adding an outdoor space has been shown to raise the home value on the market, without fail, and depending on the materials used, not only will you have an area that you can use for many years to come, but it also translates to the higher value of your home, too.
Outdoor Spaces as Instruments for Health
Not only do outdoor spaces add value to your home, but they can also do wonders for your health. Studies have shown that taking the time to come out into the backyard, soaking in the sun and breathing in the fresh air can not only boost your immune system, but also improve your mood too.
This is because the fresh, outdoor air is full of phytoncides, which prompts your body to increase its production of white blood cells that are essential in killing virally infected cells in the body. 
Soak Up The Sun
Coming out to sit in the sun and the outdoors also helps you to soak in some vitamin D. This vitamin is extremely important to help regulate the calcium and phosphate in the body, which keeps bones, teeth and muscles healthy.
Not only does sitting outside help with getting some vitamin D, but spending more time in the outdoors also helps to reduce inflammation! In a practice called "earthing" or "grounding," the concept is that connecting with the earth helps to neutralise damaging free radicals that are correlated with chronic inflammation, as it supplies the body with negative electrons.
Improving Your Memory
Spending time outside can also improve your memory and focus! Getting outside and breathing in the fresh air can be extremely beneficial to boosting your memory and attention, whether it's for studying, preparing for an important business meeting, or anything in between.
Simple Mood Booster
And what's more, it's not just biological health that is helped by spending time outdoors. Spending more time outdoors has been proven to improve your mood. Making sure to take the time to sit down, unplug, and enjoy the feel of your own backyard can do wonders for your mental health. It reduces stress, by being in nature, and helps you slow down, reduce muscle tension and blood pressure. And with today's demanding schedules on the day-to-day, having the time and place to unwind can go a long way. 
When you've got an outdoor space that not only boosts your body's functions on the day to day, but also helps with your mental health, it's a no-brainer that it will start helping you live longer, too. Studies have shown that the more time you spend outdoors can actually reduce the risk for diseases, as well as premature death. Adults who make sure to spend more time outdoors heal faster too, and are more likely to get more regular exercise as well.
Outdoor Impressions: Outdoor Solution Specialists
When looking for an outdoor solution provider, it's important to find a reputable company that has years of experience and is an authorised Stratco dealer. For pergolas melbourne,carports melbourne, patios melbourne, and verandahs Melbourne, you can't go wrong with Outdoor Impressions! Our team has over 20 years of experience in the industry, and Outdoor Impressions has been providing high quality, gorgeous outdoor spaces for over 15 years now. Investing in the best means that you'll get our years of experience, and with our authorised Stratco outdoor living solutions, a great product that will last you for the years to come.
Stratco: The Industry's Best Products
Stratco has made a name for itself for high-quality outdoor solutions, and for good reason. With high tensile steel, fluted steel columns, and a wide range of beautiful and versatile products that homeowners love, every installation provides amazing results that boost your home's facade, and your enjoyment of your outdoor spaces. And with the pure quality of the materials used in these outdoor living solutions, you can rest assured that your investment will be worth it for a long time.
Why Build An Outdoor Space At Home?
With a myriad of health benefits, as well as expanding your options to entertain and relax in the comfort of your own home, it's easy to see why it's a great idea to build an outdoor space at home. And with the added boost to your home value, there's no better time than now to add that majestic space to your outdoor area. 
Looking for stratco outback? Call Outdoor Impressions today at +61 3 9728 5377 or visit 1/158 Canterbury Rd, Bayswater North VIC 3153, Australia.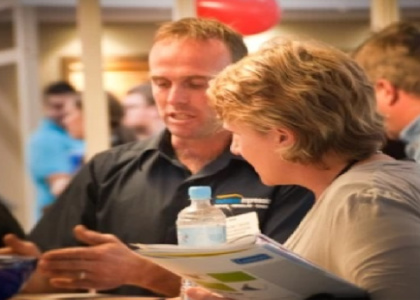 Professional Contractor, Director, Outdoor Impressions
Anthony Davis is a professional contractor and Director of Outdoor Impressions, the leading authorized Stratco dealer in Melbourne. With extensive knowledge in outdoor design and construction, Anthony and his team deliver design-focused, functional home solutions. With over 50 years of combined experience, Outdoor Impressions provides tailored, lifetime-engineered products for your outdoor living area.