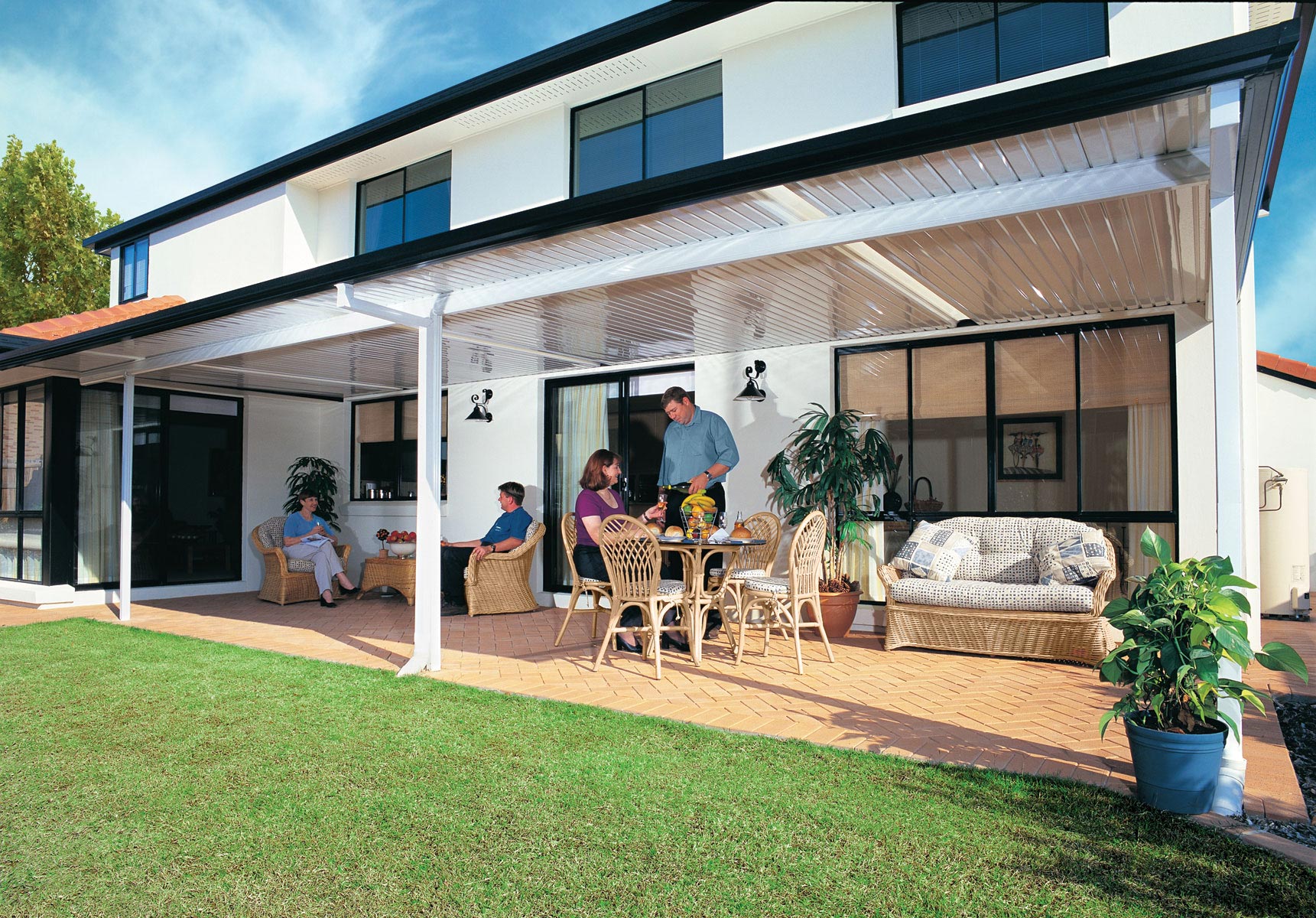 Now that the days are getting longer, and the weather's getting warmer, you're probably beginning to set up for summer. That can mean making vacation plans, getting into a solid gym routine for that summer-ready physique, or even just sprucing up your own living space to get ready to entertain guests during those beautiful summer nights. Depending on if you're wanting to prepare an existing space, or add new things to your outdoor areas, there can be a lot that you need to do to get your outdoor living space set up for those hot summer days.
If you've got an outdoor patio, you're probably wondering how to keep a patio cool in summer. There are just so many things you can do to set yourself up for a great summer period, especially if you're planning to level up your outdoor living space. 
We've got the best tips on how to keep cool, from shade sails and misting systems to retractable awnings so you can make the most out of the warmest days without the harshest of the sun's rays overheating you!
Keep Cool In The Shade
One of the best ways to keep yourself cool is to utilise natural greenery as shade cover. Not only do these add a lively look to any outdoor space, having trees, strategically placed vines and potted plants can be your natural shade and keep the heat of the sun off of you no matter what time of day you choose to use your outdoor space.
Wanting a different way to shade your outdoor space? Patios Melbourne, pergolas, verandahs, and even patio umbrellas can provide some much-needed shade when you're feeling the extreme heat. After all, who wants to risk sunburn or heatstroke? 
Sitting underneath a covered patio is one of the easiest ways to keep you cool. Plus, covered patios also means you'll have protection for your outdoor items such as your outdoor furniture, barbecue, couch cushions and even your timber deck, ensuring they won't fade, dry or crack, giving them a much longer life.
Shade Umbrellas and Retractable Awnings
After shade options that provide you with the choice of just how much shade you get on any given day? Going for shade umbrellas and retractable awnings helps you to really adjust and customise how much sun your outdoor living space gets. After all, temperature in shaded areas is significantly lower than when you're right under the sun's rays, and prolonged exposure to harmful UV rays can cause sunburn and more health issues in the future, too. For those wondering how to keep a patio cool in summer, investing in high-quality coverage like shade umbrellas means that you can move it around however you like, so you can move about the space as you please.
But if you're after something even more flexible, think about a retractable awning! These handy shade solutions are easy to pull out on hot summer days, and it's just as easy to remove and store for when you don't need shade cover in the cooler months.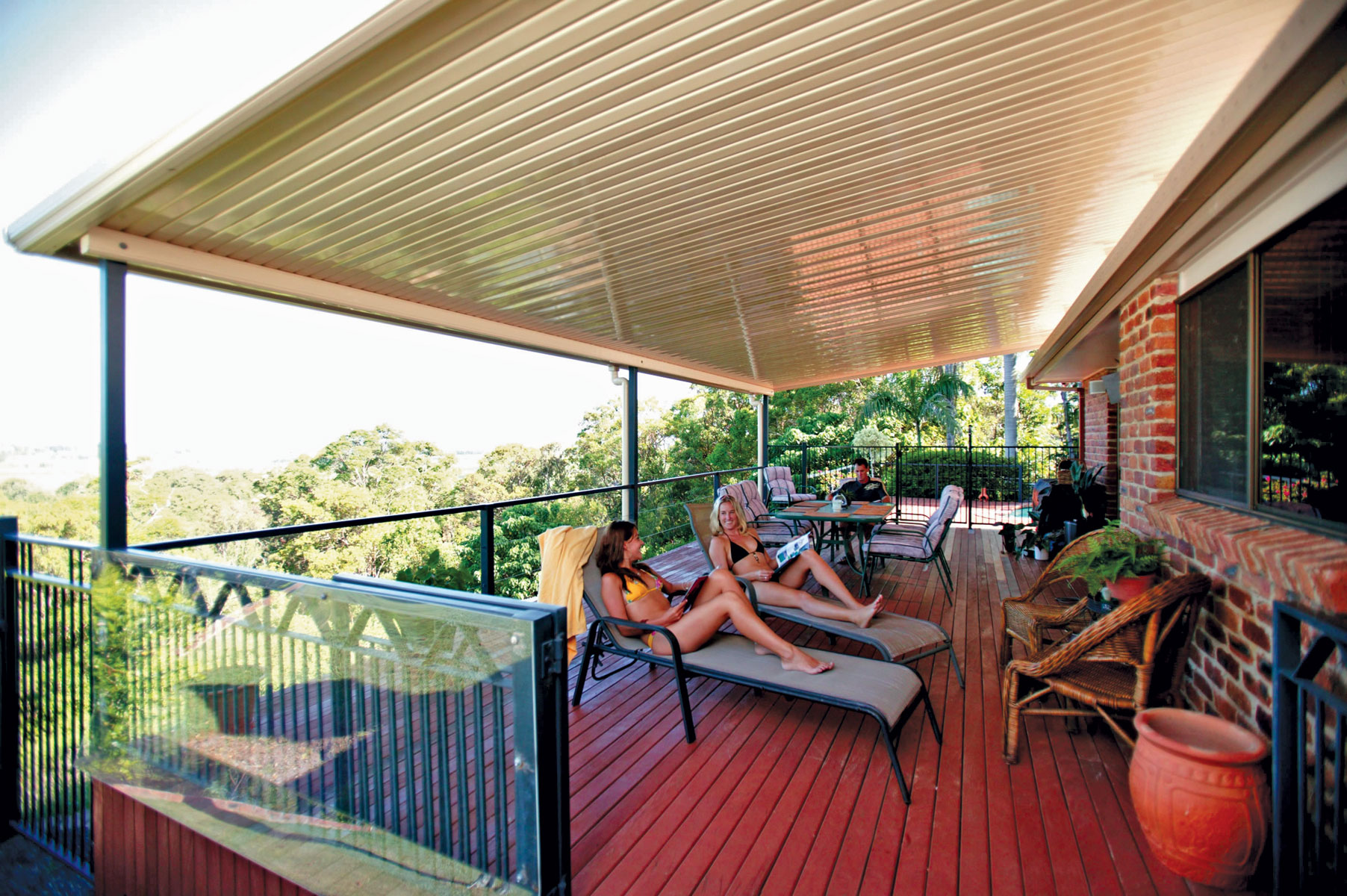 Misting Systems To Chill You Out
Misting systems have been shown to reduce the feeling of extreme hot temperatures by as much as 6 degrees celsius. On those days when the summer sun is roasting, that cooling effect can make all the difference, which is why more and more homeowners are using misting systems. These are inexpensive and easy-to-install, connecting to your existing hose to provide some cool relief for summer days.
Ceiling Fans Galore!
Want the tried and tested? Ceiling fans have been used to cool down outdoor spaces for years, keeping the air circulating during the hot days while also keeping bugs away. While fans circulate air and don't actually cool it, it still makes a difference during the hot days when you just want a breeze because it's so sticky and humid.
Evaporative Coolers
Wanting something even cooler? Swamp coolers, or evaporative coolers, help to cool outdoor spaces through water evaporation. It's an eco-friendly and cost-effective way to combat the hot air as compared to traditional air conditioning systems.
Keep Things Private With Outdoor Blinds and Curtains
Protect yourself from bugs and pests, and keep the heat of the sun off of you and your guests no matter the time of day with outdoor blinds and curtains. Having shade on the sides of your outdoor space means that as the sun makes its journey across the sky throughout the day, you're protected from harmful UV rays – with the added bonus of keeping things private if you're worried about curious neighbours looking into your backyard from time to time.
Keep Chill With Water Features
Pools are a no-brainer for those hot summer days. But what happens when you don't have the space – or the budget for the installation and upkeep? One way to keep a patio cool in summer is to utilise water features such as fountains, outdoor showers, or even blow up pools to keep you and your family cool whilst staying outside. Keeping the water flowing in your outdoor space can not only add to the ambience, it can also cool you down when you need! 
For patios in Melbourne, contact Outdoor Impressions at +61 3 9728 5377 or visit 1/158 Canterbury Rd, Bayswater North VIC 3153, Australia. Let's make this summer unforgettable with your dream patio!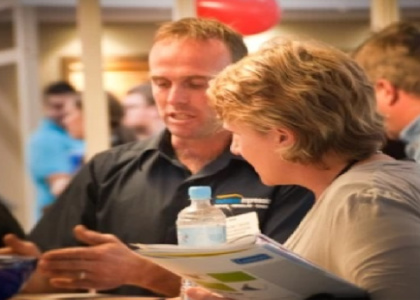 Professional Contractor, Director, Outdoor Impressions
Anthony Davis is a professional contractor and Director of Outdoor Impressions, the leading authorized Stratco dealer in Melbourne. With extensive knowledge in outdoor design and construction, Anthony and his team deliver design-focused, functional home solutions. With over 50 years of combined experience, Outdoor Impressions provides tailored, lifetime-engineered products for your outdoor living area.