The world of outdoor living is filled with interesting terms that people seem to use interchangeably. You've probably already heard of a pergola and a patio, but do you know the difference between them? These two outdoor structures are built for different purposes, and if you don't know exactly how they differ, it'll make your process of creating the perfect outdoor space a little bit trickier than it should be!
Outdoor Impressions is here to eliminate the confusion and get to the bottom of pergolas vs patios, so you know what's best for your home.
What's a pergola?
Pergolas are traditionally freestanding (though they can be attached to the house) outdoor garden structures that help to elevate the overall outdoor space of your home. Depending on the roofing type of the pergola, these outdoor structures might have a solid shade option or it could be left more open in a lattice style roof. This is often a personal design choice and you can decide on how much natural light you want to let into the outdoor space. Australians like to take advantage of beautiful outdoor living at home while staying safe from the harsh sun, so a shade cloth or other type of shading option is typically chosen for pergolas.
Pergolas tend to be built from durable and high-quality materials, being able to both withstand the elements and add to the overall vibe of the backyard. Pergolas Melbourne is also often used for fast-growing plants to climb up around the support beams and can quickly become integrated into your garden. If you consider yourself to have a bit of a green thumb, then a pergola is a nice option to get that lively and green aesthetic in your backyard space.
Although they are similar to patios in that they can also be attached to the house, they're often constructed for different purposes.
What's a patio?
Where pergolas are usually built to be a part of the garden, a patio is often an extension of your home where all sorts of gatherings with friends and family can occur. Australians have come to embrace the humble patio as the main living room in summer. All sorts of patios in Melbourne have been magically transformed by adding a full BBQ set up in there, or some stylish outdoor furniture, again cementing it as an extension of the rest of the house.
Patios are also great cost-effective options, allowing you to choose a flat, curved, or gable roof to match your home's style.
What other options are there?
The range of outdoor structures doesn't stop with pergolas and patios. Another popular choice amongst Australians is the classic verandah. Verandahs are typically more narrow and run along the length of the house, forming a part of many contemporary homes around Melbourne. Many people have these in their front yard, as a nice and cosy place to enjoy a cup of tea or coffee in.
What should I get for my home?
The battle between a pergola vs patio is a tricky one to navigate, and you may still be confused about what the best option may be for your home. What are you hoping to get out of the space, and where do you want to construct it? These can help you make that perfect decision and get your home set up with an amazing outdoor space.
The Stratco pergolas that Outdoor Impressions have installed for many homes around Melbourne have been built to last, as the high-quality steel that we use doesn't need the amount of upkeep that some timber structures require. If you're a fan of the open-air feel of a pergola, the shade blade system is something that we can install, letting you enjoy the natural light and breeze, while still giving you shelter from the sun.
If a patio is more up your alley, Outdoor Impressions have four different patio configurations to choose from, as well as a wide range of colours to match the design aesthetic of your home. The design flexibility that we offer is made to help create patios that can cover all types of areas around your home, giving you the perfect structure to add value to your home and allow you
Outdoor Impressions
Deciding on the ideal outdoor solution for your home should be easy, which is where the friendly team at Outdoor Impressions can help. We'll make sure to take into account the space restrictions of your land, your ideal style choices, and the budget that you're working within. If you're still unsure about the ideal solution for you, give us a call and we can build a customised pergola or patio for your needs.

If you're looking for pergolas in Melbourne or patios in Melbourne, call Outdoor Impressions at +61 3 9728 5377 or visit 1/158 Canterbury Rd, Bayswater North VIC 3153, Australia.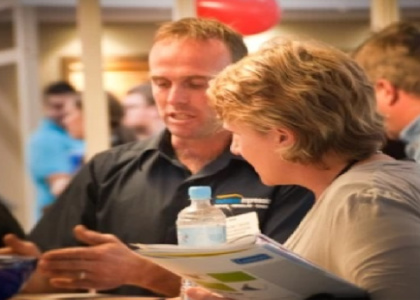 Professional Contractor, Director, Outdoor Impressions
Anthony Davis is a professional contractor and Director of Outdoor Impressions, the leading authorized Stratco dealer in Melbourne. With extensive knowledge in outdoor design and construction, Anthony and his team deliver design-focused, functional home solutions. With over 50 years of combined experience, Outdoor Impressions provides tailored, lifetime-engineered products for your outdoor living area.