When it comes to outdoor living, one of the best ways to amp up that laidback and effortlessly chic vibe is to add a pergola to your space. Originally designed to accentuate gardens by forming a shaded seating area or walkway with timber, pergolas are now considered a beautiful addition to any home garden's outdoor space. And with the creation of Stratco pergolas, there's now an option on the market for high quality pergolas built with Australian weather in mind.
But with every home as unique as its homeowner, it's only fair to say that a pergola needs to be constructed to suit the home's outdoor design, emphasising beautiful styles and matching the aesthetic to ensure a cohesive look. This is why Stratco pergola styles cover a wide range of designs, suiting any outdoor area or alfresco area as required, perfect for outdoor living in Melbourne!
A Wide Range of Stratco Outback® Pergola Designs
Let the light in with your new pergola.
Traditionally, a timber pergola has been used to create magical outdoor spaces. However, technological advancements have come about to help ensure outdoor structure longevity with the best materials available today. Made from sturdy high tensile steel that is long-wearing and corrosion free, and fluted steel columns for great structural support, there's no question that Stratco pergolas are the best way to create the outdoor space of your dreams. With massive spans of up to eight metres, you've got the freedom to choose between a freestanding or attached pergola, and with beams that let you adjust the shade level for ample sun protection year-round, or optional profiled beam ends, just add a patio underneath and you've got the right foundations for a beautiful end result.
Define and shade your new and improved outdoor space with a Stratco Outback® pergola, with shade cloth options, the innovative Shade Blade system, or the traditional open design that's been a beautiful addition to homes the world over. If you're wanting a fully personalised pergola project, Stratco pergolas are customisable, from the shape and size, to the light and space roof systems, to the colours of the framing and deck. You can choose from a wide range of colours such as Sand Dune, Storm, Deep Space, or Sylvanite, letting you mix and match your pergola to your Melbourne home with a pergola made from the highest quality materials.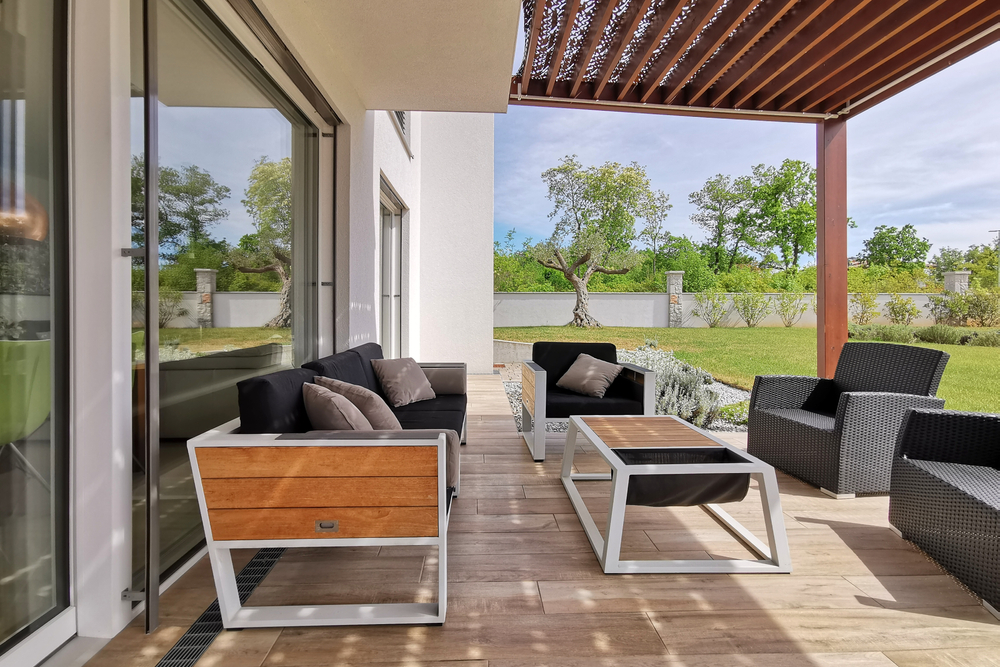 Pergola Uses
One of the best things about a sheltered outdoor space is the wide variety of ways you can really personalise the space to your needs.
Often, pergolas have been used to extend shaded garden areas, helping fragile plants grow by protecting them from the harsh elements year-round. However, more and more homeowners have begun to use their pergolas for other purposes. From an outdoor dining area, to a cozy entertaining space with lovely outdoor furniture and seating, pergolas provide a comfortable space for families and friends to get together and create fun memories.
Pergola Design Ideas
Pergolas are available in a wide range of styles, and can be multipurpose outdoor structures fit for every family. So it's important to find pergolas that are made from the best materials to ensure longevity and prevent fading and issues years down the line.
But when you're after beautiful pergolas, high quality materials are only one part of the puzzle. Knowing how to use your new outdoor room optimally and with style is just as important.
Contemporary yet Traditional
Would you consider your home to be traditional in terms of style? Contrast this strikingly with a modern and contemporary designed pergola. With simple, sleek lines, you can dress it up with a rectangular fire pit and slat tables to create an inviting space that's surprisingly chic.
Privacy With Style
If you've got a small backyard, a pergola need not take up too much space to be useful. Whether you use it as shelter, a privacy shield for a hot tub, or for a cosy outdoor seating area, it can incorporate a separate space for rest and relaxation while keeping the rest of your outdoor space open for other activities.
Transitional Space
Use a pergola to create an extension of your interior, through dining rooms, verandahs, terraces, and the patio. Make sure to choose styles and colours that complement your existing home design to create a seamless space that lets the light in and gives off a breezy, relaxed vibe.
Modern Colour
Create a gorgeous space by drawing elements from Mid Century modern styles. With concrete patio features, and a pergola with panels that allow light to shine through, make use of earthy tones and jewel blues for a striking space that's great for entertaining and relaxing alike.
Romantic and Magical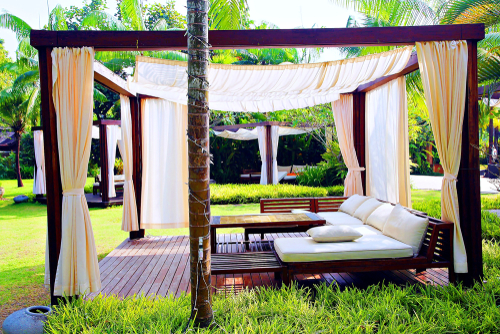 Lean into a whimsical and romantic design by utilising light coloured beams and rafters, and furnish with a comfortable outdoor sofa. Really level up the look with the addition of gauzy side curtains that sway with the breeze, making it perfect for relaxing outdoors.
Swings
While swings are an obvious addition to any backyard, take it a step further and add a swinging day bed to your outdoor space. Dress up with colourful shades and plush pillows, which will look amazing contrasting black posts and beams of the pergola.
Modern Pergola Designs Melbourne
Amp up your outdoor lifestyle and personalise your Stratco Outback® Pergola the way you like it. Make use of a pergola builder's expertise and hire Outdoor Impressions for your pergola project.
Our team of customer service experts not only have the right experience and tools to bring your outdoor living space to life, we'll also ensure that the pergola installation process is fuss-free, from acquiring building permits for you to customising pergola roof options, so you can enjoy the perks of your perfect addition in no time!
If you're looking for pergola builders Melbourne, call Outdoor Impressions at +61 3 9728 5377 or visit 1/158 Canterbury Rd, Bayswater North VIC 3153, Australia.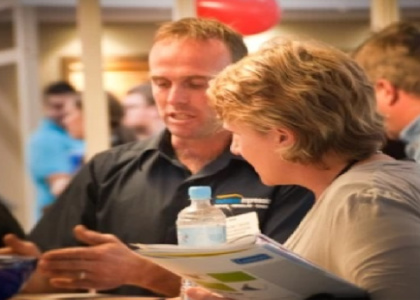 Professional Contractor, Director, Outdoor Impressions
Anthony Davis is a professional contractor and Director of Outdoor Impressions, the leading authorized Stratco dealer in Melbourne. With extensive knowledge in outdoor design and construction, Anthony and his team deliver design-focused, functional home solutions. With over 50 years of combined experience, Outdoor Impressions provides tailored, lifetime-engineered products for your outdoor living area.