code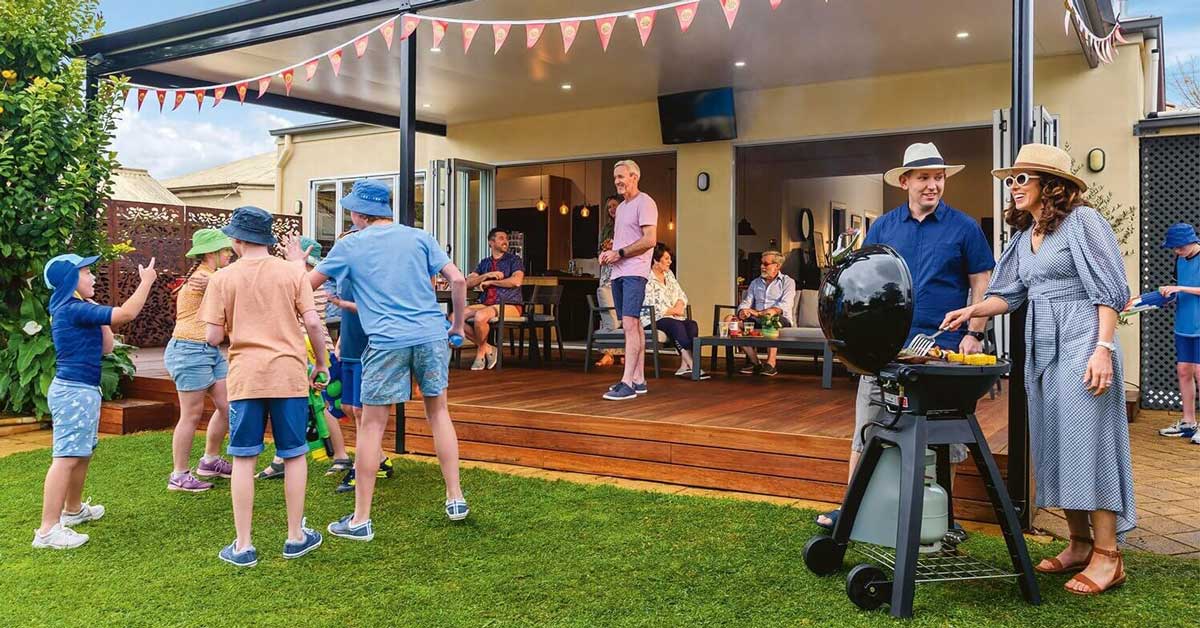 Send out the invites, warm up the BBQ and get ready to celebrate both the first Saturday of Summer in 2020 and National Patio Day! Stratco launched National Patio Day in 2019 as a way to help bring friends and families together to raise awareness about skin cancer in Australia, and the importance of seeking shade when the UV levels are 3 or above. It's also the perfect opportunity to come together as a community to raise money for the important research and support programs that the Cancer Council undertakes. Living in Australia, most of us understand the effects that the harsh sun can have on our skin, with the Cancer Council estimating that two in three Australians will be diagnosed with skin cancer by the time they reach 70. Investing in quality shelter solutions for your backyards or outdoor spaces can really make all the difference in making sure you're utilising your time outside in a safe and responsible manner.
When is National Patio Day?
National Patio Day falls on the first Saturday of summer, which in 2020 is the 5th of December. Thanks to the success of the launch of the day last year, Cancer Council are partnering with outdoor living manufacturers like Stratco to encourage people all across Australia to think about the impact of the sun and why they should be investing in solid sun protection strategies.
How can you raise money for the Cancer Council?
If you're wanting to get involved with National Patio Day and raise funds for the Cancer Council, you can start by hosting an event with your friends and family. Once you've registered your event on the Cancer Council website, you can then get to work on raising the money that you and your other supporters will be donating. As an authorised Stratco dealer, Outdoor Impressions will also be donating $50 for every patio that we install between 1st of September and 30th of November. If you're wanting to set yourself up with an incredible outdoor entertainment space, then a new Stratco patio is your way to kick off your summer with a bang, while raising money for a good cause in the process.
Want to know how to get your National Patio Day pack?
Once you register your intent to host an event on the Cancer Council website, you'll become an official part of National Patio Day for 2020. You'll also be sent a free host pack for the day, helping you to make your summer patio gathering a real hit. This pack includes things such as a tally card for donations, table cards and coasters, adding those little special touches to your start of summer party. To top it all off, the host pack will also include a $20 Stratco voucher for you to put towards your new patio or other Stratco product to liven up your outdoor space.
Want to win a $30,000 home makeover?
In addition to raising funds for an incredible cause, by taking part in National Patio Day in 2020 you'll also be going into the draw to win a home stadium makeover worth $30,000! For every $20 raised as a part of your event, you'll receive an extra entry into this competition. Even if you're not hosting the event yourself, you can find your host's event page and donate your desired amount online to show your support. You can also simply donate directly to the Cancer Council by visiting their website and clicking on the blue donate button. Regardless of the amount of money you raise, just know that every dollar matters in helping to create a safer future for Australians.
Where can I find the best Stratco Outback® Experts?
The Stratco brand not only offers reliable and long-lasting outdoor living solutions, but they also provide a stylish finish to enhance the overall look and feel of your home. Choosing an authorised Stratco dealer like Outdoor Impressions is the first step in ensuring the quality and expertise that you need to fully realise the potential of your outdoor space. Consulting with experienced Stratco Outback® Installers can also help you to explore the different patios that you could choose from to add some serious value and safety to your home. With over 50 years of combined industry experience, Outdoor Impressions are here to bring that new Stratco Patio to life with careful precision and high-quality durable materials that can withstand the hottest summers and coldest winters.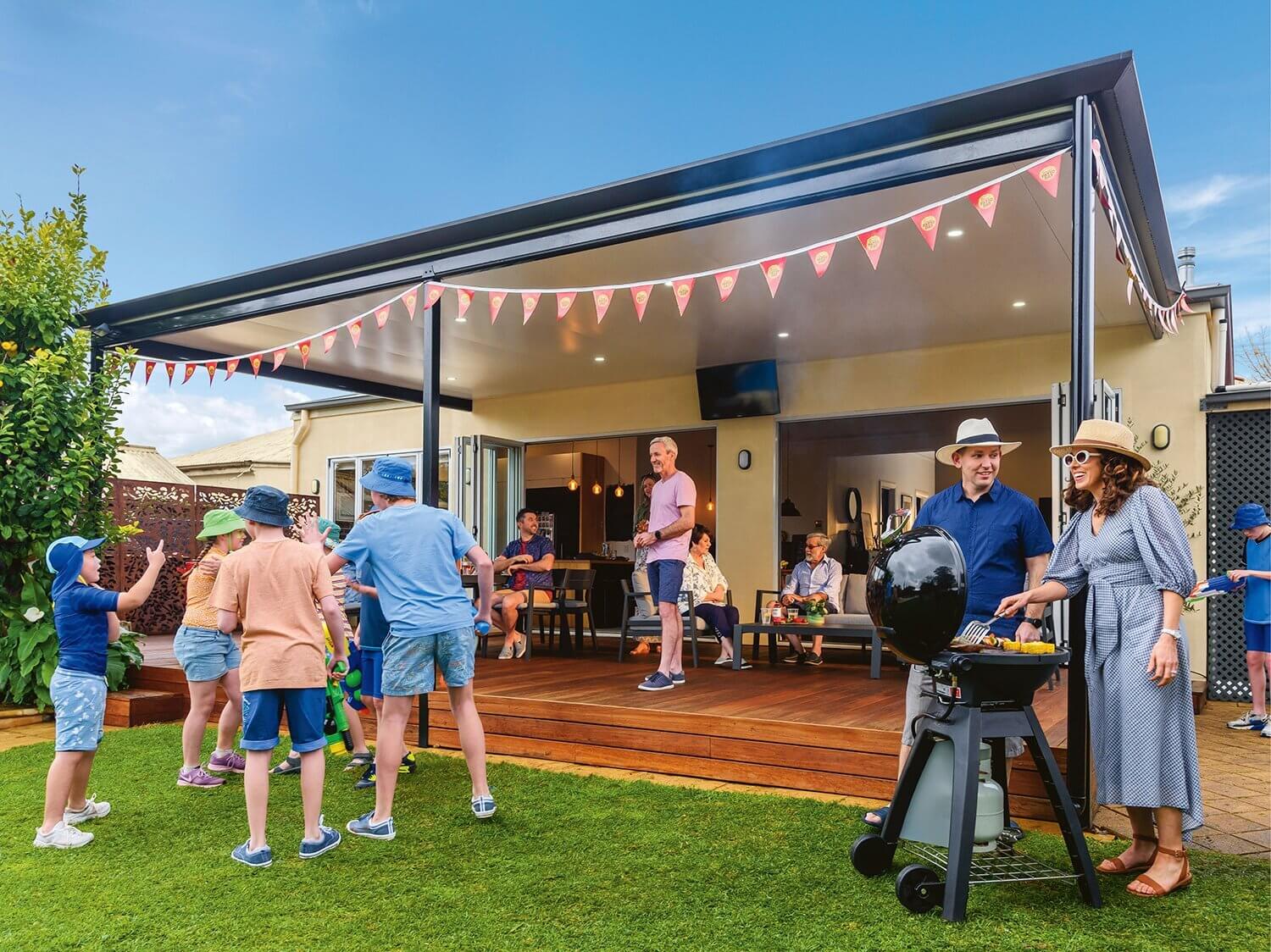 Enjoy National Patio Day!
Last but not least, we hope that you enjoy your National Patio Day on December 5th, and we look forward to seeing how much money you can raise for such an important cause. Also, don't forget to share your celebrations on Facebook and Instagram with the hashtags #nationalpatioday and #stratcopatio to go into the running to win some incredible prizes! You can contact the specialists at Outdoor Impressions today to discover the best outdoor living solutions for your home in time for summer. The way you spend the first Saturday of the summer can really set the mood for the rest of the season. Start the ball rolling and hold a get together with your friends and family from the comfort of your own home – but if you're wondering what to celebrate other than the beginning of summer, did you know that the first Saturday of December is coincidentally National Patio Day as well? Not only would you be having fun, but you'd also be helping a great cause by celebrating this event. But if your backyard doesn't quite have the right living solution and shelter, in the days leading up to the hotter months, it might be a good idea to look into your options for outdoor entertaining spaces. Options like the Stratco Outback® line are an amazing addition to your backyard, and its construction means that you too can fully utilise your property and enjoy those wonderful summer nights.
What is National Patio Day All About?
Created by the Cancer Council, the premise of National Patio Day is simple: bringing people together to celebrate the first Saturday of summer, while also fundraising for cancer prevention, research, and support programs. It is well known that skin cancer is a major cause of illness in Australia, which is caused by excessive exposure to the sun's harmful UV rays that are known to damage skin cells. Cancer Council's advocacy is to help raise awareness and work towards prevention programs, which is why it is only apt for them to partner with outdoor living solution manufacturers like Stratco to remind and encourage Australians from all over the country to invest in good sun protection- from good old sunscreen to the construction of Stratco Outback® outdoor living spaces that will not only provide substantial protection from harmful UV rays but will also enhance your lifestyle, too. So participating in this event would not only mean you would be having fun with your loved ones, but you'd also be contributing to ground-breaking research and support that the Cancer Council provides to those affected by the illness. What's more, if you post pictures of your celebrations to your social media, you'll be in the running to win prizes, too. It's as simple as tagging your pictures with #NationalPatioDay!
How Can You Prepare Your Stratco Outback® Patio For The Day?
If you're interested in beautifying your outdoor area but have yet to get a Patio Installers in Melbourne constructed on your property, consider consulting with our Stratco Outback® Installers or patio installers in Melbourne today to get started on your new home addition. Because summer is just around the corner, the sooner you start this process, the better, so you too can maximise your backyard space during the warm summer months – but make no mistake, Stratco patios are just as practical and beneficial all year round, too! What's more, as Stratco is an official partner of the Cancer Council for National Patio Day celebrations, they'll be donating a minimum of $50 per patio sold in the month leading up to the event. So not only would you be adding value to your home and expanding your guest entertainment space, but you'll also be helping in the fight against cancer. If you already have an existing patio, you can go ahead and sign up at the Cancer Council website to grab your free host kit. Dress up your entertaining space with table cards and coasters that are provided, and feel free to go wild and festive! It's summer, after all! Think of some fun icebreakers, activities, and party games, to keep the party going, and set up the barbeque for some great food, nice company, and a good cause. And in the spirit of the event, don't forget to remind your guests to protect themselves from the harsh sun with sunscreen, wide-brimmed hats, and sunglasses, too.
When it comes to outdoor living solutions, you can't get any better than Stratco. Made from durable high tensile steel and available in a wide variety of styles and finishes, not only is the Stratco brand reliable, but it is also classy and stylish. The best Stratco experts will be able to work with you to construct a beautiful new patio you'd be eager to show off to your guests to and to begin this process you need to ensure that your builder is an authorised Stratco dealer. Having this authorisation means that not only will they have the right expertise and experience to work with Stratco products, but also that they'll be able to work with you to fully realise the outdoor space of your dreams using products that are long-lasting, hard-wearing, and sophisticated, to boot. Patios need to be made with strong, durable materials, after all, to stand up against the changing elements of each season, year after year, so you can be sure that not only will you be able to enjoy your patio during those warm summer nights, but you can also make use of your extended living space during the colder winter months. Aside from this, don't forget to look at customer reviews to see if your chosen Stratco dealer is the right one for you. The best experts are those who are dedicated to brilliant customer service and are eager to help their client with their vision of how they want their backyard area improved upon with this new home addition. Builders who take into account client requirements, and rely on their expertise to translate what they can into reality by considering the uniqueness of your property are ones you should keep a lookout for! So consult with authorised Stratco dealer Outdoor Impressions and get a quote today, to get started on a wonderful, fun-filled summer you won't forget! With their 50 years of combined experience in the industry, you know your new outdoor living area will be in great hands.
If you're looking for patio builders melbourne, call Outdoor Impressions at +61 3 9728 5377 or visit 1/158 Canterbury Rd, Bayswater North VIC 3153, Australia.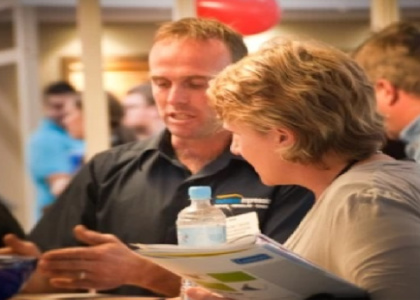 Professional Contractor, Director, Outdoor Impressions
Anthony Davis is a professional contractor and Director of Outdoor Impressions, the leading authorized Stratco dealer in Melbourne. With extensive knowledge in outdoor design and construction, Anthony and his team deliver design-focused, functional home solutions. With over 50 years of combined experience, Outdoor Impressions provides tailored, lifetime-engineered products for your outdoor living area.