As a homeowner, one of the best feelings in the world is to be able to come home after a stressful day, put your feet up and relax in the comfort of your own space. This could be in bed, on the couch, or even in your yard. If you're the type of person who loves sitting outside, enjoying nature, but you also want to be within the privacy of your own home, it might a good idea for you to invest in a Stratco Outback® Verandah. It's not only the added space that you should be considering, but it's also that a home improvement like this raises the value of your home. How? Below, we list the reasons why Stratco verandahs Melbourne home better value.
As stated above, a verandah adds more living space, as well as entertaining space that you can utilise for parties and get-togethers. Not only that, but your property immediately becomes more suitable for larger households, should you think to upsize or downsize in the future. Not only would you be giving you and your family more room for the many milestones of life, but you're also providing future buyers with the extremely desirable option of having more room for recreation and entertaining.
As to how much space you can add? That's up to you. Hire a good verandah builders in Melbourne to construct your verandah means that you'll be able to customise your outdoor living space, maximising its value and versatility not only for you but for future uses.
It's important to focus on quality when constructing, too. Not only will you rest easy knowing that your investment has been well-made, if you're not sure if or when you want to sell, ensuring that your outdoor space stands the test of time and the Australian weather throughout the years to come is an important part of maximising your investment. High-quality materials ensure durability that will pay off for Stratco Outback® Installers not just now, as you use your new outdoor space, but also in the future if you decide to put the house on the market.
And don't forget, verandahs aren't just for the summer months. Depending on how you customise them, you can enjoy them year-round. Adding things like ceiling fans, heaters, and outdoor furniture will really liven up your space, as well as provide versatility to future buyers. And if you're really planning on utilising your verandah for entertaining, investing in good lighting and a great sound system will really amp up the value of your home, while also providing you with an easier, better set-up for your get-togethers.
If you're looking for verandah builders in Melbourne, call Outdoor Impressions at +61 3 9728 5377 or visit 1/158 Canterbury Rd, Bayswater North VIC 3153, Australia.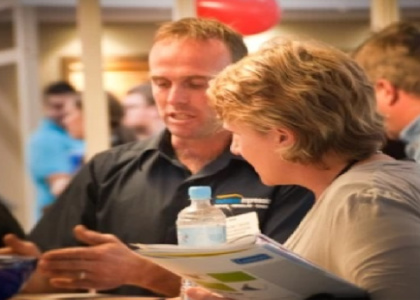 Professional Contractor, Director, Outdoor Impressions
Anthony Davis is a professional contractor and Director of Outdoor Impressions, the leading authorized Stratco dealer in Melbourne. With extensive knowledge in outdoor design and construction, Anthony and his team deliver design-focused, functional home solutions. With over 50 years of combined experience, Outdoor Impressions provides tailored, lifetime-engineered products for your outdoor living area.