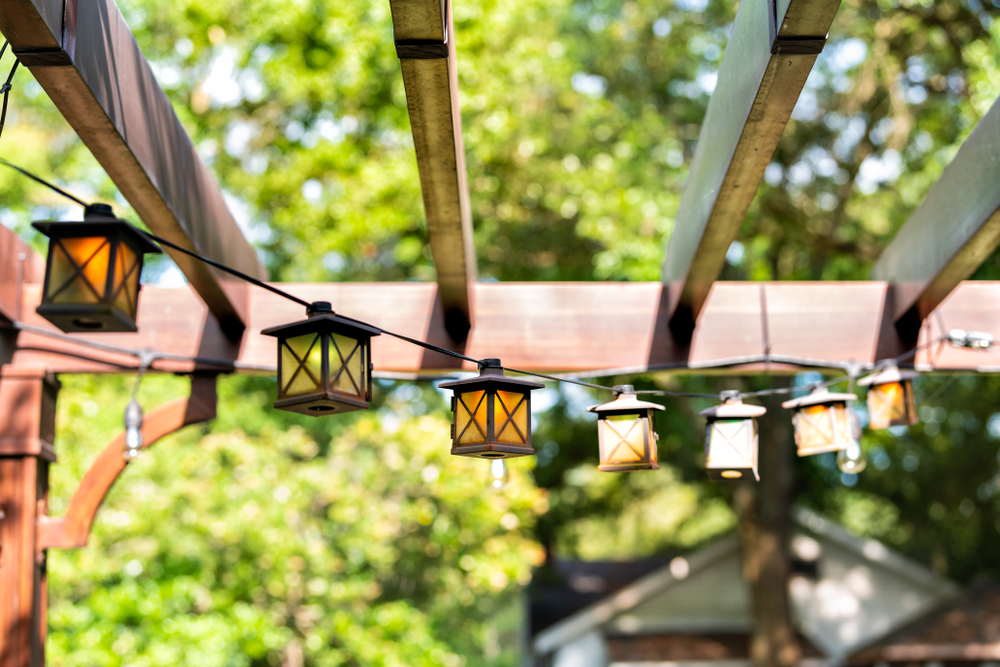 When you're wanting to create the perfect outdoor space, being able to take your new pergola from day to night is ideal. Though summer comes with longer daylight hours, the sun inevitably sets at some stage, and it's important that when it does, you and your guests can still keep enjoying your outdoor space safely and securely. The right lighting goes a long way in maintaining ambience and entertainment. If you're stuck on how to light a pergola area, we've got the whys and the hows right here in this blog for you!
What To Consider When Installing Outdoor Lighting
Safety
Outdoor areas can get extremely dark during nighttime, which can make it difficult for you and your guests to navigate. Make your space safer by installing lights along where people will walk, such as paths, driveways, and steps! Lights placed along the edges will help immensely with visibility, and using lights such as bollards and spotlights provides soft outdoor lighting that makes it easy to walk in the dark.
Ambience
Softly lit, inviting outdoor spaces can make or break your desire to spend time in your outdoor area. But with the right lighting, you'll find that you'll enjoy hanging out with friends and family, and they'll love the space, too! Some outdoor lighting ideas to consider for ambience: simple string lights, fairy lights, even well-placed pendant lights to highlight specific spots and features can be a great idea to show off the space to dramatic effect. Make sure to use lighting styles that not only accentuate the design of your outdoor space, but are built for outdoor use as well.
Entertainment
The key to perfect outdoor spaces is the right lighting with warm, soft tones as opposed to harsh white bright lights. When thinking of your light sources, it's best to consider what type of mood you're going for when you're wanting to entertain your friends and family. String lights, fire pits, paper lanterns, and even pergola lights can create magical backdrops that exude whimsy and welcome.
Security
For outdoor living spaces, lighting is also key to ensure security. Motion activated lights as well as wall lights and light fixtures that have built-in sensors or are solar-powered can be an amazing way to mix ambient lighting and security lighting, while also potentially deterring would-be intruders.
Pergola Lighting Ideas
Hanging lights/down lights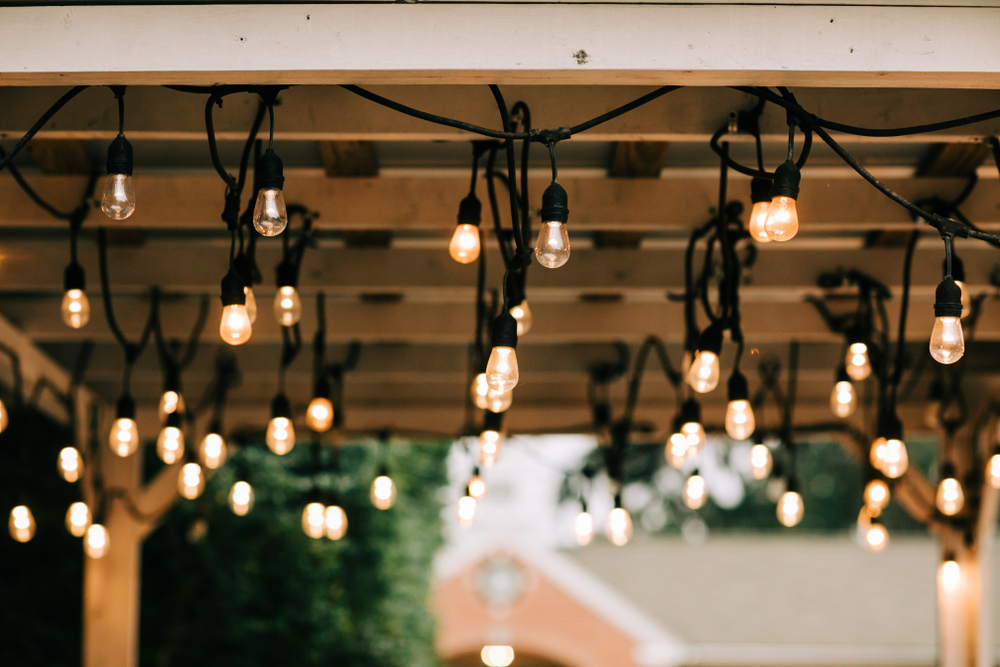 A great way to really make your home's outdoor space a beautiful place to spend time is to utilise hanging lights or down lights. From lanterns, paper lanterns, mason jars, and even chandeliers, use your pergola beams to hang dainty lights for a diffused yet inviting lighting system that's sure to look magical every time.
Eye level lighting
Another lighting option to consider is using eye level lighting. For this Australian pergola lighting idea, you'd be using lamps and wall lights according to your pergola design to arrange lights at the mid-level. Mid-level refers to lights that are just below, or just above the eye level so that guests can easily see one another without squinting because of extreme brightness or extreme darkness. Wall fixtures and sconces are a great way to position and install lights to the sides of your existing pergola for indirect lighting that's easy on the eyes!
Ground level (uplighting)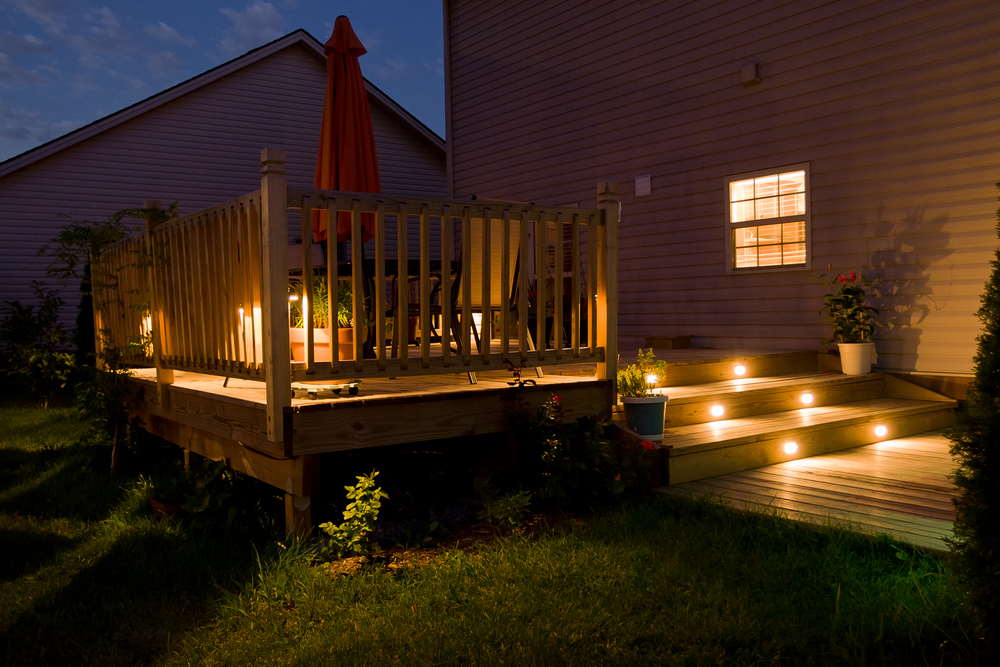 Ground level lights not only ensure that you and your guests can see where you're going, but it actually also works as an ambience light, too. Ground level lights, or uplighting, can be used to outline the edges of your outdoor space whilst also showing off your garden's designs and other features, elongating shadows and providing a magical look that's hard to replicate.
Downlighting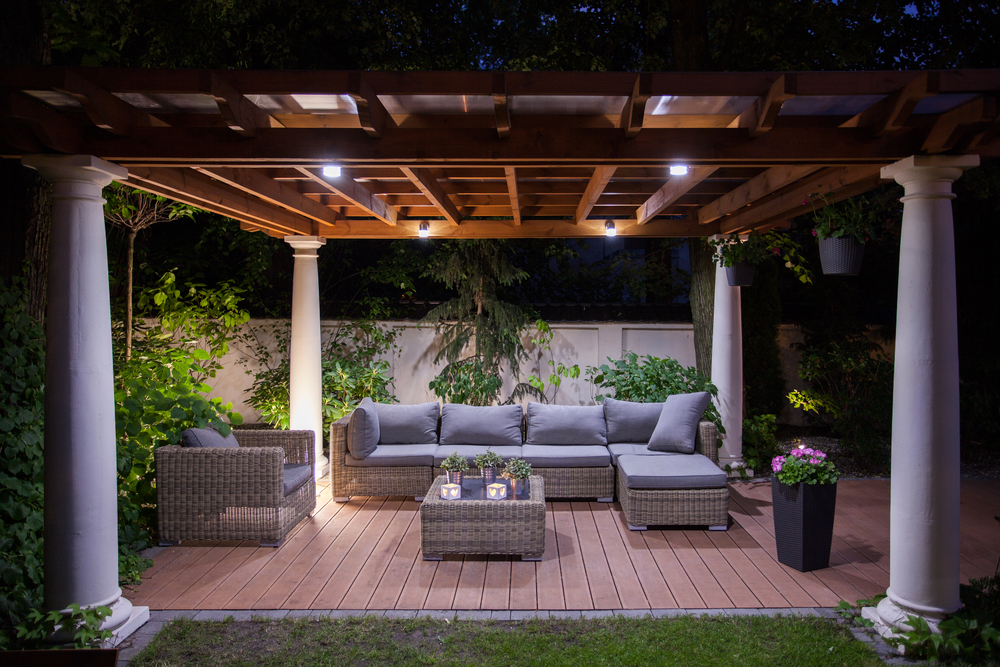 Downlights are used to brighten up a space whilst, importantly, not blinding your guests. Usually with pergolas, downlights are installed at the top of pergola posts, giving off a contemporary look if that's your chosen design.
Coloured LEDs
Wanting something a bit more funky? LED lights are the new trend, and for good reason. LED rope lights come in a wide array of colours, from red, blue, green, to everything in between. If you're a fan of neon hues, utilise LED rope lights and step outside the design box for an outdoor space that's wholly and uniquely you.
Plus, LED lighting is usually pretty energy-efficient and will last a long time.
Curtain lights
After a simple way to light up your pergola while still providing enough light for you and your guests to see each other? Curtain lights are an amazing lighting solution that not only gives off a bit of fun and whimsy, but also helps to light up the rest of your outdoor space enough for guests to be able to see where they're going. Curtain lights are available in a wide range of colours, but try and use warm and soft tones to give that welcoming feel.
Fire Pits
Want a cosy and intimate setting for your outdoor space? Ditch the dining table and place a fire pit in your outdoor area for a modern and cool design that'll take you from summer to winter. Or better yet, install a fireplace for a diffused lighting experience that's bound to amaze!
Your Outdoor Experts
Whether you're looking for pergola lighting ideas, or even wondering where to get the best Melbourne pergolas, Outdoor Impressions is your one-stop shop for all things outdoor living. We've got the skills and the experience to create the outdoor space of your dreams, and only work with high-quality materials that we know will stand the test of time and have been shown to last throughout the Aussie climate, so you can have peace of mind that your new home addition will not only be a sight to behold, but will also be a worthy investment that you'll enjoy for the years to come.
If you're looking for pergolas in Melbourne, call Outdoor Impressions at +61 3 9728 5377 or visit 1/158 Canterbury Rd, Bayswater North VIC 3153, Australia.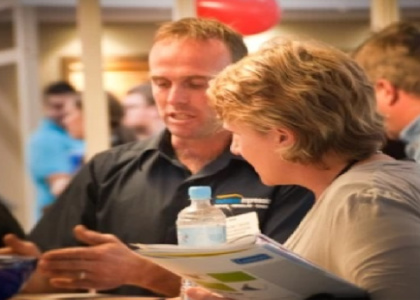 Professional Contractor, Director, Outdoor Impressions
Anthony Davis is a professional contractor and Director of Outdoor Impressions, the leading authorized Stratco dealer in Melbourne. With extensive knowledge in outdoor design and construction, Anthony and his team deliver design-focused, functional home solutions. With over 50 years of combined experience, Outdoor Impressions provides tailored, lifetime-engineered products for your outdoor living area.