There's nothing better than being able to sit down and relax outside on a lazy afternoon, be it by yourself, or with company, as the sun sets in the background. And with a verandah, you can do just that, and more! For example, one study has shown that neighbourhoods with front verandahs have a greater rate of fostering a sense of community, as it makes it easier for families to interact with each other in an informal setting while the children are out playing on the street. Verandahs are also an amazing space for outdoor entertainment for friends, family, and neighbours alike. But the benefits of having a verandah don't just stop at the prospect of friendly neighbourhood relations. Even just being able to sit outside and enjoy the great Australian weather from the comfort of your front porch can help you relax and de-stress from your day-to-day worries. But for a place so important for relaxation and entertainment, not just any verandah system will do. For peace of mind and to ensure that your new verandah is built with integrity and the strongest materials, you need to look no further than a Stratco Verandah Builders for your home. All components are made from high tensile steel and held up by strong steel fluted columns, these Stratco verandahs Melbourne are made with innovation and durability in mind.
Enjoying the Outback® Lifestyle With Your Stratco Verandah
A key part of the classic Outback® lifestyle includes casual get-togethers with friends and family, such as barbeque parties in the summer that are held in the privacy of your own backyard, in the fresh air. But entertaining and grilling under the hot Australian sun for hours on end is a surefire way to getting heat exhaustion and sunburn, especially without any sort of shelter. This is where a verandah would come in handy, keeping you and your guests cool under shade so you can focus on the important things, like catching up with your friends or grilling the perfect lamb skewers. However, a verandah isn't just useful in the summer. No, it can be utilised year-round for get-togethers, too, from spring to winter. Just make sure to equip your verandah with ceiling fans, heaters, and outdoor seating, so that you and your guests can enjoy 365 days a year, and you'll have an ideal entertaining space everyone would love to come over for.
If you're looking for stratco verandahs, call Outdoor Impressions at +61 3 9728 5377 or visit 1/158 Canterbury Rd, Bayswater North VIC 3153, Australia.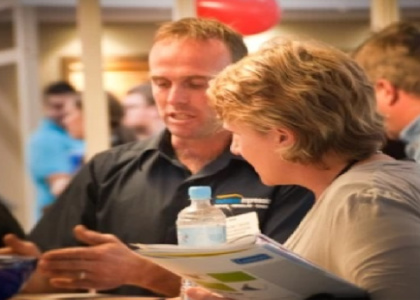 Professional Contractor, Director, Outdoor Impressions
Anthony Davis is a professional contractor and Director of Outdoor Impressions, the leading authorized Stratco dealer in Melbourne. With extensive knowledge in outdoor design and construction, Anthony and his team deliver design-focused, functional home solutions. With over 50 years of combined experience, Outdoor Impressions provides tailored, lifetime-engineered products for your outdoor living area.