Have you been searching for the perfect pool pergola ideas to transform your backyard into a breathtaking outdoor haven? Look no further! Dive into this guide brimming with design inspiration and tips for creating an unforgettable poolside pergola.
Poolside Pergola: The Ideal Outdoor Structure
Adding a pool pergola to your outdoor space not only enhances the visual appeal of your swimming pool area but also increases the functionality of your backyard. Let's explore the benefits of incorporating a poolside pergola into your landscape design.
Shade and Comfort
A pool pergola provides much-needed shade, creating a comfortable and relaxing seating area for you and your guests to enjoy.
Outdoor Entertaining
Hosting outdoor gatherings is a breeze with a pool pergola. It creates a designated space for dining areas and outdoor kitchens, perfect for entertaining friends and family.
Boosting Property Value
A well-designed pool pergola can increase the value of your home, making it an excellent investment for homeowners.
Customising Your Pool Pergola: Ideas for Outdoor Living Space
Now that you've explored some pool pergola ideas let's delve into the ways you can customise your pergola to create a truly unique outdoor living space.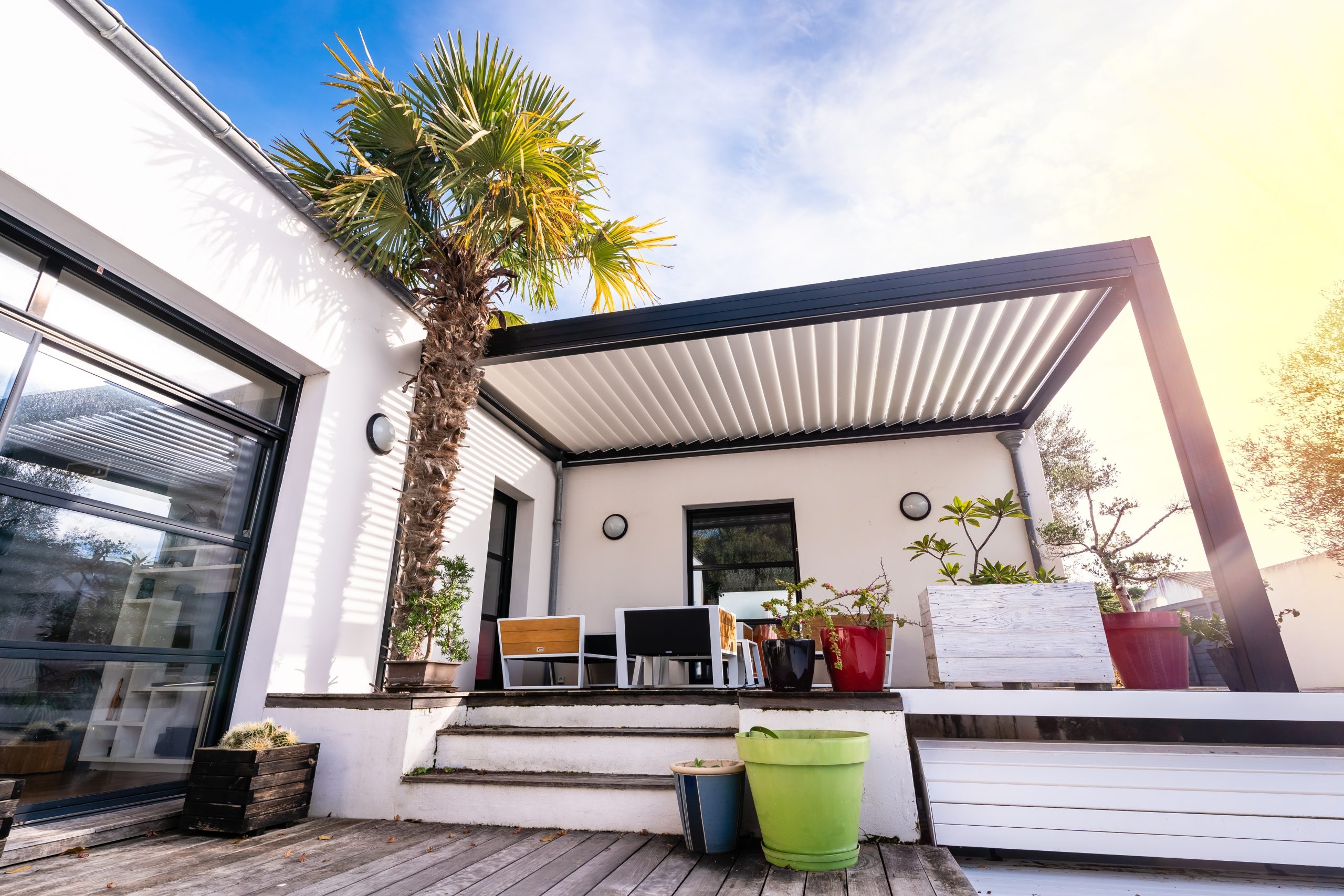 Attached Pergola: An Extension of Your Home
Consider an attached pergola, extending from your home to create an additional living room outdoors. This design is perfect for those with limited backyard space or who prefer a seamless connection between their indoor and outdoor areas.
Lounge Area: A Relaxing Retreat
Transform your pool pergola into a relaxing lounge area. Add comfortable seating, plush cushions, and a stylish outdoor rug to create a cosy and inviting space for you and your guests to unwind.
Dining Areas: Alfresco Dining at Its Finest
Create the ultimate outdoor dining experience by incorporating dining areas into your pool pergola design. Add a large dining table, comfortable chairs, and ambient lighting to enjoy meals under the stars.
Pool Pergola Ideas: Integrating Additional Features
Enhance your pool pergola with these fantastic ideas that elevate your outdoor space to new heights.
Outdoor Kitchen: The Culinary Dream
Take outdoor entertaining to the next level with a fully equipped kitchen. Include a built-in barbeque/stovetop, refrigerator, and counter space to prepare delicious meals while enjoying the poolside view.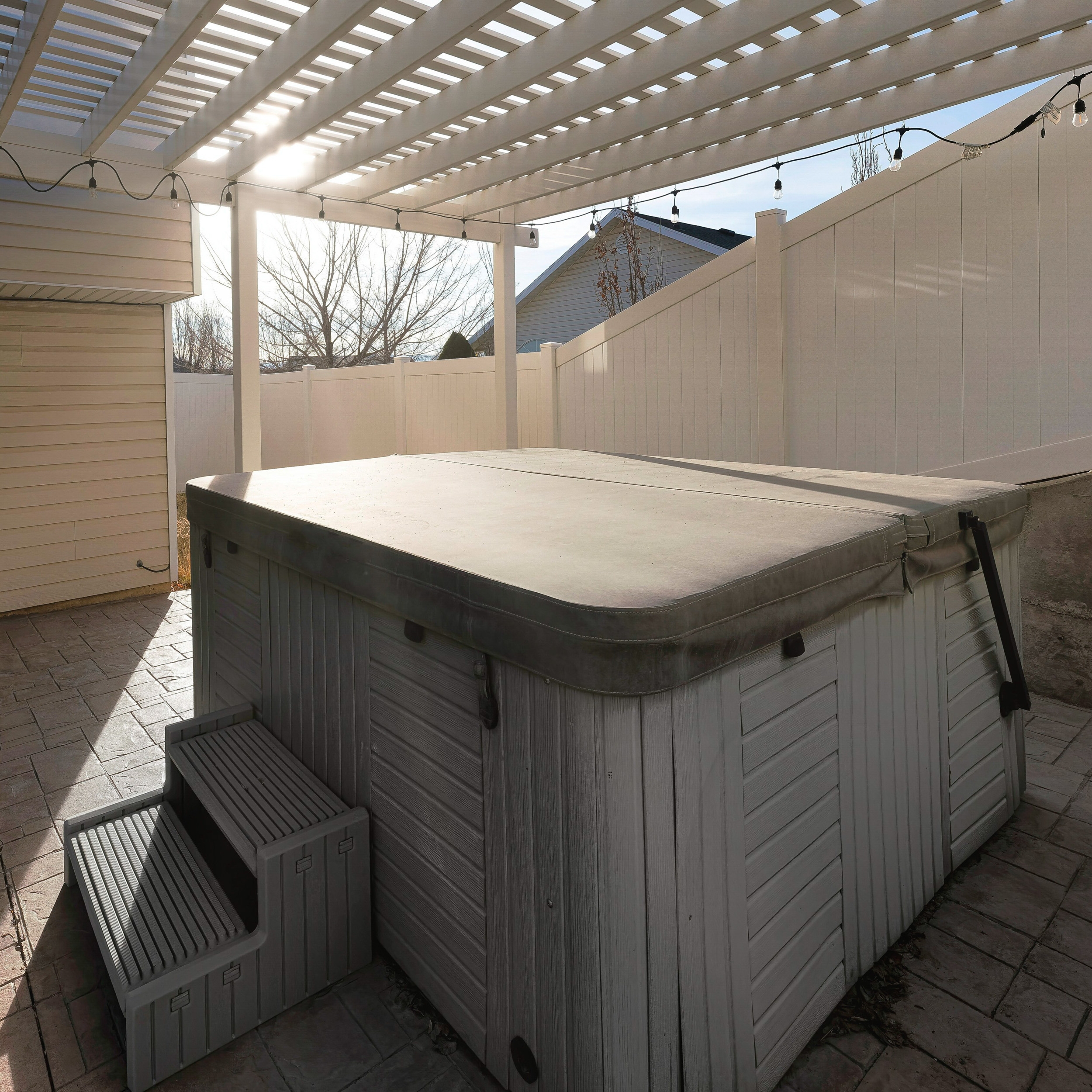 Hot Tub: A Spa-Like Experience
Why not integrate a hot tub into your pool pergola design? It's the perfect addition for those seeking a luxurious, spa-like experience in their backyard.
Landscape Design: A Harmonious Environment
Work with a landscape designer to create a cohesive and harmonious environment around your pool pergola. Incorporate lush plants, water features, and decorative elements that complement your overall design. Plants & greenery could include:
Climbing plants:
Train climbing plants like ivy, wisteria, or jasmine to grow over the pergola, creating a beautiful canopy of foliage and flowers.
Potted plants:
Incorporate potted plants around your pergola to add a touch of greenery without compromising floor space. Choose a mix of colourful flowers and low-maintenance shrubs to create visual interest.
Vertical gardens:
Utilise vertical space by installing a living wall or hanging planters on the pergola's pillars.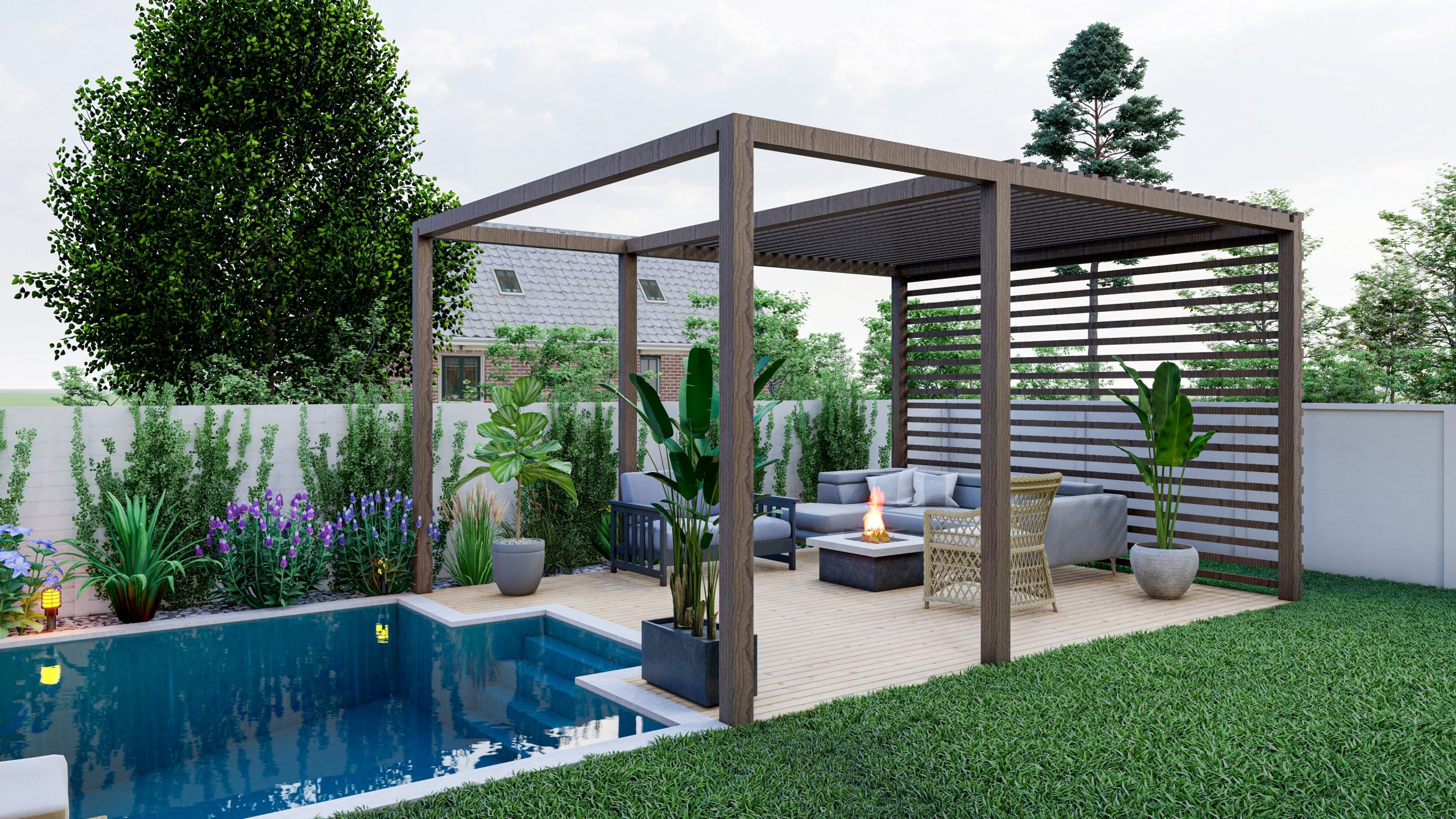 Privacy Features: Creating a Secluded Oasis
Consider stylish and practical solutions like outdoor curtains made from weather-resistant and fade-proof materials. Or, install decorative screens or lattice panels to create a secluded space that still allows airflow and light.
From Concept to Reality: Customising Your Pool Pergola
One of the most exciting aspects of pool pergola ideas is the opportunity to customise your design. Here are some unique ways to make your pergola truly your own:
Colour and Finish:
Select a colour and finish that complements your home and outdoor space. From natural wood stains to vibrant paint colours, the options are endless.
Roofing Options:
Choose a roof style that suits your needs, such as a traditional slatted roof, a retractable canopy for adjustable shade, or a solid roof for maximum sun protection.
Size and Shape:
Tailor your pergola's dimensions and shape to fit your outdoor space perfectly. Consider a rectangular, square, or, even circular pergola to compliment your pool's shape.
Exploring Pergola Styles
Choose from various architectural styles to make your pool pergola unique and visually appealing.
Pergola styles:
Mediterranean
Bring the charm of southern Europe to your backyard with a Mediterranean-style pergola. Opt for warm colours, terracotta roof tiles, and intricate wrought iron details to achieve this timeless look.
Asian-inspired
Create a Zen retreat in your backyard with an Asian-inspired pergola. Incorporate elements such as bamboo, clean lines, and minimalist designs to create a tranquil atmosphere.
Modern Industrial
For a contemporary and edgy look, choose a modern industrial pergola. Think exposed metal beams, sleek lines, and bold, minimalist design elements.
Looking for more swimming pool pergola design ideas? Check out our other blog here.
Dive into Your Pool Pergola Project
With countless pool pergola ideas to inspire you, it's time to bring your vision to life and create the ultimate backyard oasis. Whether you opt for a traditional wooden design or a sleek, modern pool pergola, you're sure to create a stylish and shaded haven that you and your loved ones will cherish for years to come.
Remember to consider incorporating additional features such as outdoor kitchens, hot tubs, and landscape design elements to elevate your pool pergola experience. The possibilities are endless, and the outcome will be a stunning outdoor space that combines functionality, comfort, and beauty.
Ready to embark on your pool pergolas in Melbourne journey? Transform your outdoor area and bring your pool pergola ideas to life with Outdoor Impressions. Contact us at +61 3 9728 5377 or visit 1/158 Canterbury Rd, Bayswater North VIC 3153, Australia.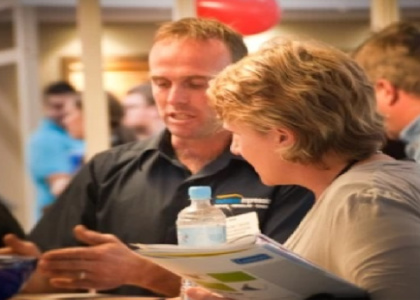 Professional Contractor, Director, Outdoor Impressions
Anthony Davis is a professional contractor and Director of Outdoor Impressions, the leading authorized Stratco dealer in Melbourne. With extensive knowledge in outdoor design and construction, Anthony and his team deliver design-focused, functional home solutions. With over 50 years of combined experience, Outdoor Impressions provides tailored, lifetime-engineered products for your outdoor living area.