Feel trapped indoors all year long? Can't make use of your outdoor space? A Stratco verandah could be just the thing you need to turn your backyard into the place to be. No need to fear the beating sun or pouring rain any longer. The structure can be configured to fit any area around your home, and it can be freestanding or attached, whichever suits your desires. Instantly upgrade any deck or yard by making it a functional space, and enjoy the benefits for years to come. Here is a list of some of the best uses for a Stratco verandah in your Melbourne home.
1. Additional Living Area
The biggest benefit of a verandah is the additional living space it provides. Who wouldn't want more room in their house? Stratco sunroof Installers can create an outdoor kitchen, dining or living area – the sky's the limit. Imagine the dinner parties you could throw with all that extra space. The Stratco Outback® Verandahs come in a range of classic colours and designs to match your house, so it won't feel out of place. The smooth and clean appearance has only the necessary supports, which allows you to enjoy the full potential of your space without the structure getting in the way.
2. Kids Entertainment
Summer holidays are quickly approaching, and you might be wondering what to do with the kids this season to keep them active or away from screens. Adding a verandah can encourage them to spend more time outdoors. If you have a yard, the verandah is a nice chill place to rest in the shade after playing in the grass. If you have a pool, there is nothing better than enjoying a dip, then resting under cover. When the kids invite friends over, they can have their own section of the house to hang out, and with the optional screens, it can feel enclosed and free of those pesky summer bugs.
3. Summer Relaxation
The sun is out and so are you! The Stratco Outback® Verandah is perfect for those beautiful sunny Melbourne days when everyone heads outdoors. Enjoy the protection from the sun while still taking in that sweet fresh air and warm breeze. Relax with a book or sit and chat for a while. All you need is a couple of comfy chairs, maybe a table to place a cool drink, and you are all set for a perfect lazy summer. If you want to let a little bit of those sun rays through, the Stratco sunroof patio is an innovative solution that allows you to open and close the electronic blinds at the simple touch of a button. You get the best of both worlds with ventilation and protection from the elements when you need it.
4. Winter Protection
When the rain starts to pour, you can still fire up the barbecue or cuddle on the couch if you have a Stratco verandah. No elements can stop you from enjoying the outdoors. The high tensile steel construction and intelligent engineering guarantees it can withstand even the harshest winds. You'll be able to enjoy your backyard all year round thanks to your Verandah Builders.
If you're looking for verandahs in Melbourne, call Outdoor Impressions at +61 3 9728 5377 or visit 1/158 Canterbury Rd, Bayswater North VIC 3153, Australia.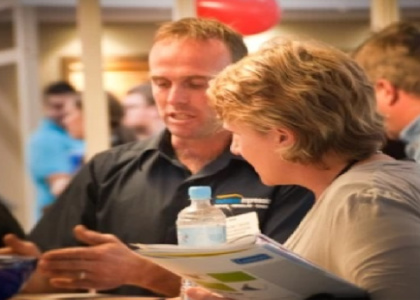 Professional Contractor, Director, Outdoor Impressions
Anthony Davis is a professional contractor and Director of Outdoor Impressions, the leading authorized Stratco dealer in Melbourne. With extensive knowledge in outdoor design and construction, Anthony and his team deliver design-focused, functional home solutions. With over 50 years of combined experience, Outdoor Impressions provides tailored, lifetime-engineered products for your outdoor living area.