Nothing beats a hot summer night spent with friends and family, catching up and bonding over food and drink. Even better if you have the barbeque fired up, and a well set up outdoor space with seating that's perfectly matched to entertaining guests and loved ones. But what can you do if your backyard is just that – a backyard, with no outdoor structure to speak of? Well, if you are looking for an outdoor living solution, it may be time to think about adding a patio to your home to address your outdoor entertaining needs come summertime.
What is a Patio For?
As stated above, a patio is great for outdoor entertaining. Its open-air structure lets the fresh wind come through unhindered, bringing a refreshing breeze to your guests, especially on those hot summer days, while its roof provides shelter not only from the sweltering heat of the sun during the daylight hours but also during those odd spring showers and summer rains that pass through – it also lets you keep barbecuing all through Winter! The main purpose of a patio is to extend your living space to the outdoors, and while its biggest benefit is the addition of an entertainment area for your guests, it can also be re-purposed to anything you wish. A relaxation area, a shaded portion for your flourishing garden, an area for your children to play away from the harsh sun, whilst still enjoying the outdoors. The possibilities are endless and are only limited by your imagination.
How Much Does it Cost to Build a Covered Patio?
Adding a new structure to your home is a big decision ask and advice from Patio Installers Melbourne, and you've got to factor in your costs. As with any home addition, it can be a good idea to set a budget so that not only are you aware of how much you're willing to spend in the construction of your new entertainment area, but so you can also be mindful of the additional expenses that may crop up after its installation, such as purchasing outdoor furniture, the addition of window shades, among other things.
A Stratco Patio can be expensive or inexpensive depending on your requirements and chosen style. In general, a patio's overall price fluctuates depending on a number of factors, including the materials that you're using, the type of base you're installing onto, whether you're planning to add a deck or fittings such as downlights, and of course, the installation cost. Flooring can also range from inexpensive concrete to pavers, which can give you a price range of $45 per square meter to $100, excluding if you decide to get a base or not. As with most paver jobs, you may require a retaining wall built, in which case you are expecting to spend upwards of $270 per meter.
However, if your home is on a slope, concrete or pavers may not be ideal, and you may need to consider having a deck built in order to provide a foundation for your patio. This can cost you upwards of $200 per square meter.
When getting a patio built, some structures come with the roof included, and some not – and it will be extremely beneficial to you to shop around and look for a patio that has a roof, or a patio that may not come with one, but has a cover add-on that is relatively inexpensive. Contractors such as Outdoor Impressions not only provide a great selection of Stratco outdoor living solutions, which are durable and built for Australian living conditions, they also provide affordable prices for patio construction, whilst installing an outdoor structure that fulfills your needs and aesthetic to the dot.
As stated earlier, you may choose to add some extras to your patio to really amp up its usage. This can range from outdoor furniture, heating and cooling furniture, lighting fixtures, and general decor that not only gives the area a great vibe, but also provides a more personal feel. Depending on what you choose to decorate your space with, it may be beneficial for you to set aside a budget for after construction costs, too.
While DIY-ing your patio is a surefire way to cut back on costs, keep in mind that it may be a long and arduous process especially if you are not wholly experienced in construction. To ensure the durability and stability of your outdoor living solution, consider hiring an expert contractor to install your beautiful new home addition. Not only will it be easier, but you'll also have peace of mind that your new structure will be constructed with integrity.
Do I Need a Permit to Build a Patio?
Depending on where your home is located, you may or may not need a permit to build a patio. When it comes to this, it is best to err on the side of caution and to ask your local council about the specifications and limitations of getting outdoor structures constructed, as this can vary between councils. This should not be delayed, especially if you are about to start construction, as building without a permit can not only result in a hefty fine but also may put a halt to your plans.
If in doubt, search up your local council's website, and contact their Building Services team to ensure that everything is in place for your patio construction. It will save you a headache later if you get it sorted on time! Some contractors, like the Outdoor Impressions team, can also lend a hand when it comes to figuring out what permits need to be applied for, so it's best to ask the experts such as stratco installers and patio installers Melbourne.
Conclusion
Your home is an extension of who you are, and if you're the type to love hosting and entertaining, a patio is a worthy investment to ensure that you not only have enough entertaining space for your friends and family, but also an added outdoor area for your family's needs on the day-to-day.
If you're looking for patio installation, call Outdoor Impressions at +61 3 9728 5377 or visit 1/158 Canterbury Rd, Bayswater North VIC 3153, Australia.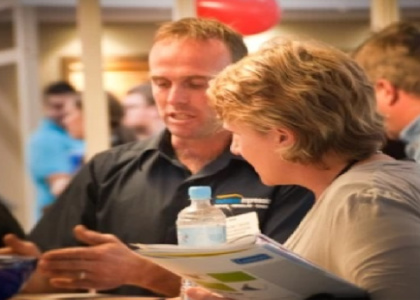 Professional Contractor, Director, Outdoor Impressions
Anthony Davis is a professional contractor and Director of Outdoor Impressions, the leading authorized Stratco dealer in Melbourne. With extensive knowledge in outdoor design and construction, Anthony and his team deliver design-focused, functional home solutions. With over 50 years of combined experience, Outdoor Impressions provides tailored, lifetime-engineered products for your outdoor living area.