Fresh air, great company, and good food: there's just something amazing about having a beautiful outdoor impressions that is perfect for entertaining family and friends alike.
When everything's set up just right, parties and get-togethers are a breeze, letting you enjoy your time with minimal stress. If you're after outdoor kitchen ideas to help really elevate your entertaining prowess, look no further. Here's what every outdoor kitchen needs to wow and astound every guest.
Planning is Key
One of the key things to consider when looking at outdoor kitchen ideas is that it's helpful to keep it close to the entrance of the indoor kitchen. Not only is it practical, simplifying meal preparation and presentation to hungry guests, but it also keeps cleanup as fuss-free as possible, shortening the distance and lessening the trips you'll have to take in and out of the interior kitchen.
Another thing to consider is that more and more outdoor kitchen appliances have become available on the market as of recent years. Decide what you want for your alfresco or outdoor kitchen design – a BBQ, a grill, a pizza oven, an outdoor sink for easy cleanups, outdoor kitchen islands to add to work surfaces – it's easier to plan these in the very beginning, as opposed to trying to add it in once everything else has been set up.
For small alfresco kitchen ideas, opting for kitchen islands with bar stools not only increases countertop space, but it also makes it easier for you to entertain guests while you cook, giving them a clever seating space that's multipurpose.
If you're planning for an outdoor impressions that's on an attached or covered patio, and are worried about good air circulation, make sure to invest in a vent hood that's made of weather-resistant materials so that it can stand up to the elements year after year.
If you're wanting to have a fully-working outdoor kitchen, make sure to include a working sink to prevent you from having to go in and out of the interior kitchen to wash your hands or clean ingredients. Even a small sink can go a long way!
And, of course, it helps to have a vision of how you want your outdoor space to look. Whether you're after an outdoor dining table, plush outdoor seating, a fire pit, speakers, or even decking, it's a good idea to keep these in mind so that you can choose the right materials and layouts, whether you've got big or small outdoor kitchens.
Let There Be Light
While morning and lunch get-togethers get plenty of natural light, it's important to invest in good lighting when cooking outside. Your outdoor kitchen can not only be put to good use during the daytime hours, but for dinnertime, too. If you're making use of overhead lights for grilling and dining spaces, make sure these have been tested to withstand varying weather conditions. Consider, too, an outdoor ceiling fan over the dining area to help keep the air moving, and maximise your outdoor space to use not only for dining, but relaxing, too.
Think Tough, Durable Materials
For an outdoor cooking space, durability is key. Hard-wearing materials for kitchen areas in outside spaces not only ensure that you can prep, cook, and entertain for the years to come, it will also ensure that the space remains stylish and unique with minimal maintenance. Try to use grease-resistant materials for food preparation surfaces, such as natural stone, or concrete countertops to avoid food stains. If you're after a stainless steel finish, these are amazing, too. Choose weather-resistant materials as much as possible!
Generally, outdoor cooking areas shouldn't have tiles for flooring, as it can get slippery from the rain and become a hazard. Tiled splashbacks or benches are also not advisable in areas where winters are cold, as these can crack if not installed correctly.
Invest in Outdoor Storage Solutions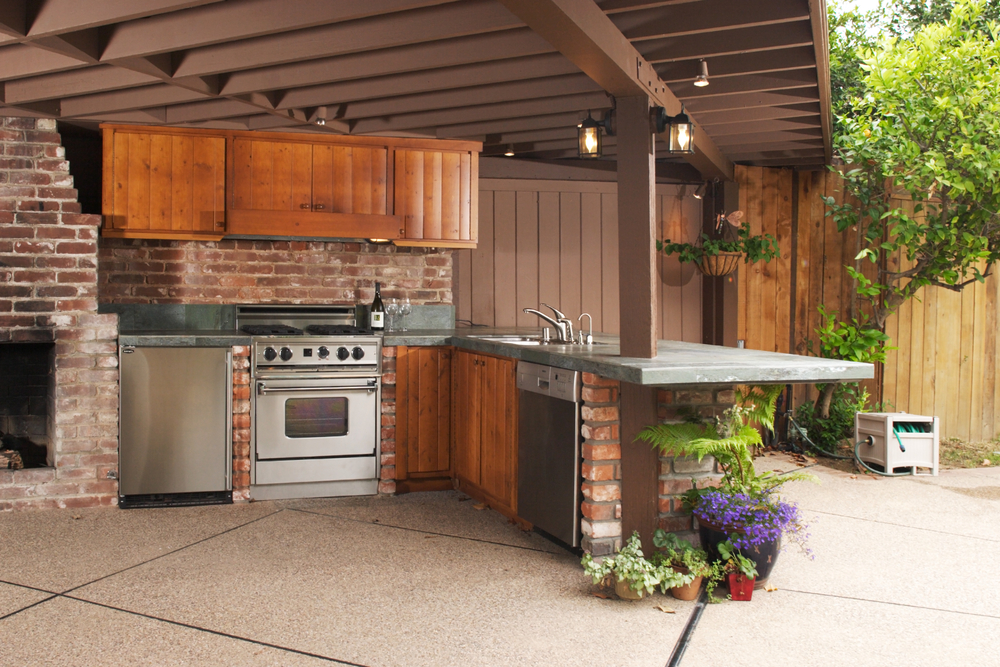 It isn't just outdoor impressions and workspaces that need to be made from highly durable materials to withstand most weather conditions. Using stainless steel, natural stone, slate, or stucco for your cabinets and surfaces is recommended for exterior use – but make sure that if you're installing a kitchen on an existing deck that it's been verified as structurally able to support the additional weight of kitchen furnishings and appliances before you start building.
Make sure that you plan for storage and organisational requirements, such as trash bins, baskets, and storage for napkins, glasses, cleaning supplies, and cutlery. Whether you've got an open kitchen or one that seamlessly transitions from the interior to the exterior, it's always handy to have these storage solutions to make it easier for yourself to prep and entertain as you cook.
Shelter Guests From The Elements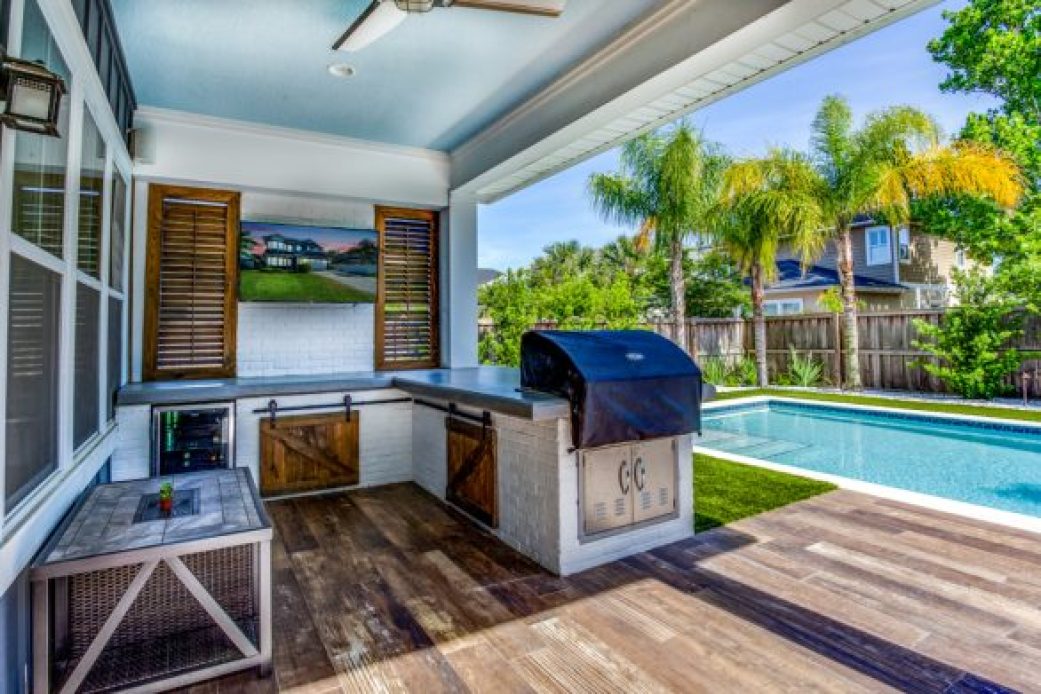 No outdoor area is complete for entertaining without something above-head to shade from the sun and protect from the rain.
Some homeowners opt to utilise the cover that outdoor stairs or an overhanging porch provides to keep guests dry and warm. But no matter the weather conditions, there's no denying that pergolas are a great way to keep the party going, rain or shine. Pergolas are easy to install and complement any style of home effortlessly. And with so many gorgeous options from Stratco for all your pergola needs, from their revolutionary shade blade system to a wide array of colours and finishes, there's a pergola that will uplift your outdoor space without question.
Looking to create an outdoor pergola Melbourne? Call Outdoor Impressions at +61 3 9728 5377 or visit 1/158 Canterbury Rd, Bayswater North VIC 3153, Australia.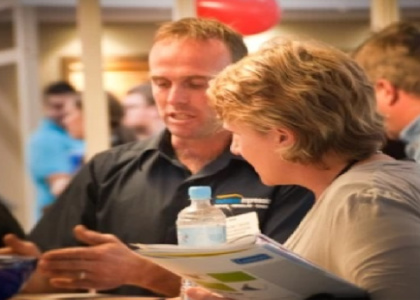 Professional Contractor, Director, Outdoor Impressions
Anthony Davis is a professional contractor and Director of Outdoor Impressions, the leading authorized Stratco dealer in Melbourne. With extensive knowledge in outdoor design and construction, Anthony and his team deliver design-focused, functional home solutions. With over 50 years of combined experience, Outdoor Impressions provides tailored, lifetime-engineered products for your outdoor living area.