When considering new home improvement projects, it's always a good idea to consider the value of the project you are wanting to undertake. Questions like, will it elevate my household's living experience? Will it add value to my home? Is it worth the effort to add something new to the property? The answers to these questions can help you decide whether or not you should start your desired patios melbourne. In this case, the focus is on adding a patio to your home, and whether or not it is a practical and essential addition if you are looking to increase home value and maximise your property's space.
What home improvements add the most value?
Arguably, kitchen renovations add the most value to any home, and for good reason. This room sees a fair amount of use on the day to day, and can only benefit from a refresh every few years to update the design and fixtures. However, these types of renovations can get very costly, and redesigning an existing space can only do so much to increase your living area's versatility.
Aside from this, you can also add another bathroom to your home, which will greatly benefit your home's value if you only have one existing bathroom prior to the addition. However, having to work with limited available space, and maybe even knock down some walls and rearrange the plumbing system can cost quite a lot, and is not a project that should be taken lightly.
Home improvements that add more square footage to the living space increase the property's value by a fair bit. This includes, but is not limited to, the addition of a Stratco patio area for your home. This increases your home value because it adds not only a relaxation area for you and your household no matter the season, but it also provides extra space for entertaining guests when you are holding an event in the privacy of your own home. This versatility can really boost your property value while also ensuring that you can maximise your living space to your changing specifications, year round.
What adds more value to a home, a deck or a patio?
Patios are generally cheaper to build than decks, and that is mostly to do with the fact that decks are raised structures that require sound support underneath, and are more complicated to install as a result.
Either one brings value to the home because most outdoor space additions provide great return on investment, so you have to think about what is more important to you. Decks are great for backyards with a view, but if you're after a bit of privacy, going for a patio is your best bet as its lowered construction offers privacy from nosy neighbours.
How much value does a concrete patio add?
Concrete patios generally cost less than patios made from pavers, for example, but can still increase the value of your home depending on how it is constructed. In general, it is not just the materials used, but the way it is constructed that can add value. If you design your patio in such a way that it is a feature of the home, and does not look hastily done or out of place with your existing home's design, it can definitely boost your property value whilst still keeping you on budget. After all, some homes that have had a patio installed that clashed with the existing designs of the house have actually proven to be detrimental to the home's value – so make sure that when having your patio constructed, that you are taking into account the general aesthetic of your home and ensuring that your outdoor space compliments it well.
What are the steps to properly adding a patio to your home?
The first thing you should do is to look up reputable stratco patio builders in your area. Relying on a professional to build a Stratco patio for your home not only ensures the best quality construction as according to their expertise, but also minimises the cost that can come from DIY-ing your own patio and making beginners' mistakes along the process. Finding and hiring a stratco builders alleviates not only the stress of building a new outdoor space, but also ensures that you'll get your money's worth with an output that will definitely raise the value of your home.
Once you've consulted with your chosen builder about the type of Stratco patio you wish to have built, it's important to ensure that the proper permits are in place: this can be either or both planning and building permits, and this differs depending on your local council. Your chosen builder should be able to assist you with this process as they have prior experience doing these types of projects in your area. Once these permits are in place, it's time to add a patio to your home!
How do you build a roof over a patio?
If you're wanting to ensure that your new Stratco patio can be used rain or shine, day or night, it's a good idea to consider building a roof over your patio. Having a roof over this area maximises the space and lends you with a sheltered outdoor area that is safe from inclement weather, whether it's harsh rains or the hot sun. If you're considering building a roof over your patio, again, consult with your local council about what planning and building permits may apply to your situation. And don't forget to consult a reputable builder when deciding the structure and design of your patio roofing solutions, as roofs most definitely require a sound structure to ensure its durability and strength, whether or not you are wanting to attach the roofing to your home or have a freestanding patio in your backyard. When it comes to outdoor living solutions such as these, consider Stratco patios for their well-designed constructions and durable products, so you can rest easy investing in your new outdoor spaces.
If you're looking for stratco patio installers in Melbourne, call Outdoor Impressions at +61 3 9728 5377 or visit 1/158 Canterbury Rd, Bayswater North VIC 3153, Australia.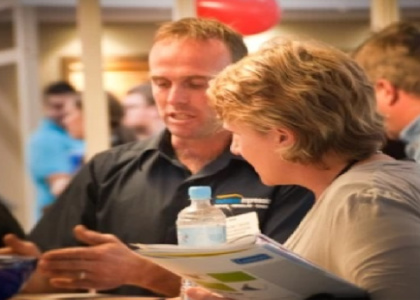 Professional Contractor, Director, Outdoor Impressions
Anthony Davis is a professional contractor and Director of Outdoor Impressions, the leading authorized Stratco dealer in Melbourne. With extensive knowledge in outdoor design and construction, Anthony and his team deliver design-focused, functional home solutions. With over 50 years of combined experience, Outdoor Impressions provides tailored, lifetime-engineered products for your outdoor living area.