Trends of interior design come and go, and you can renovate and refresh with the use of different accent pieces, paint, and furniture. But in the same way as the interior of the home is important, the home's kerb appeal is just as significant! Not only does a home's kerb appeal entice potential buyers when you're looking to sell your property, but it also makes your home something you'll enjoy coming home to every single day.
If you're wondering how to improve kerb appeal, we're here to give you all the kerb appeal ideas you need to make your home's exterior one to be proud of.
What is kerb appeal?
Defined in the dictionary as "the attractiveness of a property and its surroundings when viewed from the street," it really just refers to the exterior of the home, specifically when someone is looking at it from, you guessed it, the kerb.
It's almost like your home's first impression, from when someone is walking through your neighbourhood and passing by or from when someone is driving past. What's outside of the home provides people with an impression of what they'd be able to find inside, and kerb appeal refers to things such as your landscaping, lighting design, colour palette, roofing, front door, and much more.
So really, the home's exterior is not just one big thing, but is actually made up of several parts, all working to look cohesive and attractive.
Why is kerb appeal so important?
So why is kerb appeal so important, and why all the fuss on improving it?
Not only does it add to the property's value for when you're wanting to sell your home, but it also elevates the look of your home. And if you've spent your hard-earned money on your property, it only makes sense that you'll not only want to make it look good, but keep it looking good, too.
And while kerb appeal is made up of many things, it doesn't have to be a costly endeavour. Your home's kerb appeal can be elevated by making a well-thought out strategy that takes your aesthetic preferences and budget into consideration. There are lots of kerb appeal ideas from home improvement magazines, guides, and websites, but we'll list the best spots to start so you have a better idea on how to improve kerb appeal without breaking the bank.
How to improve kerb appeal
Paint your front door/garage door
New door hardware, as well as a fresh coat of paint on your front door or even your garage door, can go a long way in transforming the exterior of your home. Don't discount the influence your front door has on your kerb appeal, especially as a lot of the time the eye is drawn towards the entrance of the home.
Have an outdoor entertainment area
When we talk about kerb appeal, we think about lawns, window boxes, your garden… the possibilities are endless. But don't forget about your outdoor spaces, too! Creating a lush space where you can relax, with weatherproof furniture and styled matching the exterior of your home can have a great impact on your home's exterior. Go the extra mile and add a Stratco pergola to the front of your home for a beautiful space that keeps you protected from the weather.
Add some landscaping
Whether you hire the services of your local landscaping expert, or take a trip to your local hardware store to elevate your yard yourself, adding some landscaping to your front lawn can really make a difference. Adding plants or a structured path, and even just making sure that you're on top of your lawn care, can take your front yard from average to inviting.
Fix/spruce up any fencing
Got fencing that's seen better days? Prospective buyers can get dissuaded by weathered-looking fencing that hasn't been maintained. Give your fencing a new lease on life by repairing any damages, and perhaps even putting on a new coat of paint for a fresh look.
Hide bins
If you've got space to stash away your bins, do so! This is a simple way of cleaning up the look of your home's exterior without having to spend anything. While it's all well and good to have your bins at the front of your home, it can be a distracting sight that takes away from the cohesive look you're trying to achieve. If you've got space in the garage, or in the side entrance to your backyard, try and stow it there!
Complete any repairs or maintenance
A well-kept home has lots of curb appeal without having to change much. It's because kerb appeal not only refers to freshening up the exterior and making sure everything looks cohesive and put-together, it also refers to the maintenance and quality of materials that you've used for your home. So make sure you clean your gutters regularly, and repair things such as broken windows, missing pavers, and chips in the paint.
Replace old hardware
The tiniest of details can make the biggest contributions to your home's curb appeal. Changing door knobs, the material of your house number sign, and even your mailbox can go a long way on how to improve kerb appeal.
Create some symmetry
Symmetry is a good choice for when you're wanting to create focal points for your home's kerb appeal. Try to balance out the front of your house with windows on either side, or even two tall plants on either side of the front door to utilise symmetry as a way of making your front door pop.
Start with your outdoor space
Make your home more appealing with the perfect outdoor space! Whether it's pergolas, verandahs, patios, or more, contact Outdoor Impressions at +61 3 9728 5377 or visit 1/158 Canterbury Rd, Bayswater North VIC 3153, Australia. Let's create the ideal gathering spot for your home!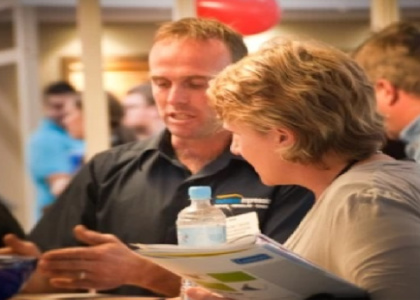 Professional Contractor, Director, Outdoor Impressions
Anthony Davis is a professional contractor and Director of Outdoor Impressions, the leading authorized Stratco dealer in Melbourne. With extensive knowledge in outdoor design and construction, Anthony and his team deliver design-focused, functional home solutions. With over 50 years of combined experience, Outdoor Impressions provides tailored, lifetime-engineered products for your outdoor living area.