Outdoor time with friends and family is a non-negotiable part of Australian culture. When you have a free day coming up and it looks like it's going to be nice out, going outside for a BBQ is super tempting.
Unfortunately, it's not easy for everyone to organise a BBQ or invite friends over for some drinks in their own backyards. It shouldn't be an activity you can only do in the summer.
With the right outdoor entertaining space, you can proudly show off to your loved ones and neighbours all year round!
If you want to have the best out of all the Verandahs Melbourne, we're here to help! We can design and create a custom verandah, pergola, or patio area that suits your needs.
We understand the value of creating a flawless addition to address your needs and wants while complementing the existing features, colours, and style of your home.
Find the Design That Suits Your Home
There are various designs available and just because it looks good, doesn't mean it's the right one for your home!
Gable Design
The Gable roof design is great for those who prefer a pergola or patio with a more traditional look.
This luxurious style is a perfect addition to any home. The naturally airy and light design gives your outdoor space some premium vibe.
You can feel cool and comfortable any time of the year because of its pitched shape and in the event of rain, the slope helps shed water quite easily.
Our wide array of gable pergolas are perfect for creating an open entertaining area where everyone feels welcome.
Gazebo Range
If you want to wow your guests and leave a lasting impression as soon as they walk in, your best choice is to install a gazebo.
A gazebo opens up several options for your backyard. Your outdoor entertaining space will have a distinctive and elegant appearance that will impress anyone.
The gazebo instantly becomes the centrepiece for your outdoor dining area or garden. It can function as a covered area for your spa bath or just somewhere to enjoy peace and quiet.
If you want to enhance the look of your backyard, start with a gazebo. It will instantly become the star of your outdoor entertainment area!
Flat Range
A flat-roof design is perfect for those who aren't looking for anything grand or if you want to compliment the already minimalistic design of your home.
They're the simplest and most cost-effective option without sacrificing aesthetics.
Fair warning—during the warmer months, the flat design can become hotter. It's best to look into roof panels with insulation for your flat-roofed Melbourne pergolas!
While beautiful on their own, they can also be paired with a Gable design if you can't just decide on one!
Flat Range designs compliment any backyard, big or small.
Retreat Range
The retreat range has a sloped and insulated roof for an open and breezy feel, perfect for both day and night outdoor entertainment.
You can even have a custom-built Retreat and enjoy a sophisticated entertaining area that is sure to impress.
A Retreat pergola can be built over your pool, timber decking, and spa. You can enjoy so many fun and relaxing activities all day and all year long with this setup.
Retreat Style pergolas will bring a luxurious, spa-like feel to your very own backyard.
Materials for Pergolas, Verandahs, or Patios
Which material is best for the design of your choice? Regardless of the design, you will be asked to pick between two materials: timber or steel.
Again, this is all about what best suits your dream design!
Timber
Timber adds character to a custom-designed pergola, verandah, or patio.
It has a traditional and rustic look compared to steel and it's also cheaper since it's widely and readily available.
Over time, timber structures may require touch-ups and paint jobs every 15 years or so.
It's best to start with high quality, heat-resistant paint to protect your frame from damage due to dry heat.
For a more natural look, you may want to opt for treated timber or a timber stain.
Timber is also more resistant to the salt and sand in the air compared to steel. This makes it a better, longer-lasting option if you live by the coast.
Steel
A steel frame gives a more modern look to your backyard entertaining space.
They're great for protecting against the weather and they will never need to be repainted, lowering costs over time.
While they're more expensive than their timber counterparts, they will require little to no maintenance.
Stratco is one of the biggest manufacturers of building and home improvement products in Australia.
Upscale your home with a high-quality stratco patio or stratco pergola made of sturdy and aesthetically pleasing materials!
If you're still not sure which to choose, feel free to drop us a call and consult our experts. We can have an in-depth discussion on which option works best for you and your home!
Process of Installing Pergolas, Verandahs, or Patios
Renovating your home is always a grand and complicated project. There are many things to consider and with the large expense that usually comes with it, it's best to plan properly.
Your best option is to consult with an expert. We can organise a free measure and give you a quote. If it sounds good to you, we'll take care of the rest!
Our engineers are well-versed in council standards so they can draw up plans accordingly and you won't have to worry about approval.
You can focus on choosing a design that works best for your home!
Home renovations are usually associated with long and drawn out construction periods but worry not, we can assure a short build time after council approval.
There's no better place to go for Verandahs Melbourne. If you're looking for a stratco patio or stratco pergola, we're your guy.
We'll take away the pains associated with home renovation so you can focus on having a great time outdoors!
If you're looking for verandahs, pergolas or patios, call Outdoor Impressions today at +61 3 9728 5377 or visit 1/158 Canterbury Rd, Bayswater North VIC 3153, Australia.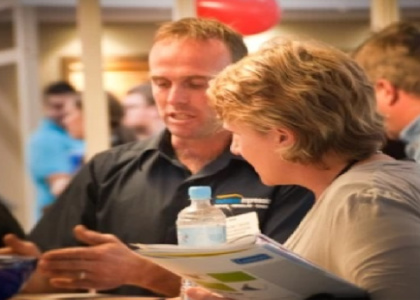 Professional Contractor, Director, Outdoor Impressions
Anthony Davis is a professional contractor and Director of Outdoor Impressions, the leading authorized Stratco dealer in Melbourne. With extensive knowledge in outdoor design and construction, Anthony and his team deliver design-focused, functional home solutions. With over 50 years of combined experience, Outdoor Impressions provides tailored, lifetime-engineered products for your outdoor living area.