Discover the Stratco Outback Pergola, a masterpiece of outdoor architecture brought to you by Outdoor Impressions, where Windsor's heritage meets contemporary design.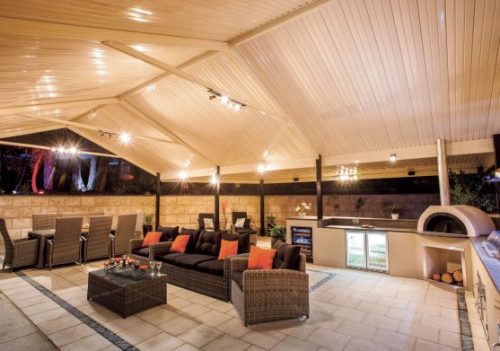 Tailored to Your Specific Requirements
At Outdoor Impressions, we take pride in our ability to tailor each Outback Pergola to your specific needs. Our team assesses your unique site conditions, prevailing wind and weather patterns, local government authority requirements, and more to craft a pergola that perfectly fits your lifestyle.
Seamless Connection to Your Home –

Our experts meticulously assess your roof design and construction, ensuring a seamless connection between your home and the Outback Pergola. We take into consideration the attachment method that best complements your home's architecture.
Stormwater Management –

South Windsor's climate is known for its unpredictability. We expertly assess and manage stormwater catchment to protect your investment and guarantee the longevity of your pergola.
Boundary Considerations – We respect Windsor's heritage and unique architectural guidelines, adhering to boundary considerations and other local regulations, ensuring your pergola harmoniously integrates with the surrounding landscape.
Comprehensive Permit Assistance – Outdoor Impressions takes care of all the necessary permits and insurance to provide you with a hassle-free experience. Let us handle the Planning Permit, Building Permit, or Warranty Insurance, making your dream pergola a reality.
25-Year Assured Elegance
Warranty-backed for 25 years, our Outback Pergola stands as a paragon of durability. Its high tensile steel craftsmanship, decked in a luxurious Merbau timber aesthetic, is Stratco's pledge of unrivaled quality and avant-garde design.
Windsor's Architectural Harmony
The Stratco Outback Pergola's chamfered and fluted beams are a nod to Windsor's railway architecture, while its Outback Deck, with a ceiling-like finish, offers a homage to the indoor-outdoor fluidity that is much coveted in this stylish suburb.
A View That Reflects Windsor's Charm
Engage with Outdoor Impressions, and inherit a piece of architectural excellence that resonates with the Windsor spirit. Embrace the Stratco Outback Pergola as a reflection of Windsor's timeless charm right in your backyard.
Contact us today to discuss your specific needs and embark on the journey of creating a backyard oasis that seamlessly integrates with Richmond's local trends and iconic architecture. Don't miss this opportunity to bring a touch of Aussie elegance to your Richmond home!
One of our sale representatives will contact you within one business day.
Get Free Measure & Quote!
Please fill out the form below and we will back to you soon.
Factory 1, 158 Canterbury Road Bayswater North VIC 3153
CONTACT US
Visit us:

Factory 1, 158 Canterbury Road, Bayswater, North Vic 3153